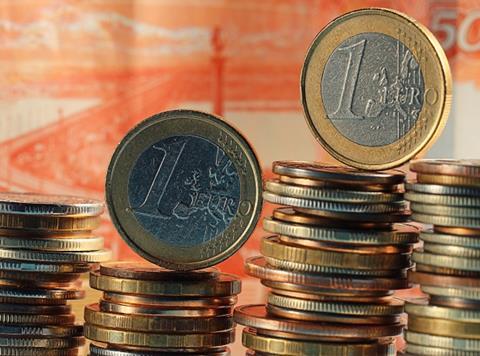 The UK food & drink industry has been hit by a slump in exports in the first half of 2015 as the plunging value of the euro has dragged down international sales.
The total value of food and non-alcoholic drink exports fell 5.3% during the first six months of the year to £6bn, exclusive FDF figures reveal.

A sharp drop in the value of exports to the EU's 28 member states drove the overall export slump, with EU exports dropping 7.5% to £4.3bn and the EU share of total UK food & drink exports falling back to 72.1% from 73.9% last year.

Exports have been hit by the strength of sterling - which has risen 15% in value against a basket of currencies over the past two years. But it's the 17.4% devaluation of the euro, which has fallen from £0.86 to £0.71 since August 2013, that has been most keenly felt.

The figures are a blow to an industry already coping with stuttering emerging markets growth and the growing economic turmoil in China, and will be unwelcome for the government, which has targeted growing exports as a key plank of its ­economic plans.

FDF director general Ian Wright, writing in The Grocer this week (p18), stressed that the export fall needed to be viewed in context. "It is worth remembering we are building from a position of strength," he said. "Food and non-alcoholic drink exports have almost doubled in value over the last 10 years."

Last year, food & non-alcoholic drink exports grew 2.6% to £12.8bn in the full year, with the 9% jump in exports to non-EU markets easily outstripping EU export growth of 0.5%.

In the first half of 2015, non-EU exports grew 1%, despite the relative strength of sterling, and the FDF said overall export volumes remained flat to positive. Including alcoholic drinks, total food & drink exports were 4.8% down to £8.6bn - with exports of whisky (the UK's largest food & drink export) down 4.3% to £1.7bn.

The proportion of exports compared with imports slipped back during the period, with the trade deficit increasing to -£11.4bn from -£11.3bn. The trade deficit had previously improved to -£22.3bn in the full year from -£23.5bn in 2013.

Exports were most notably hit in sectors that have seen falling commodity prices - dairy exports were down 20% year on year while meat and animal product exports fell 12%. International fish & seafood sales fell 8%, driven by a sharp fall in sales of salmon to the US, which has instead increased salmon imports from Canada. Overall exports of salmon were 28% down.

The picture was rosier for more highly processed goods - typically manufactured and branded products - where exports rose 1.6% to £1.98bn. EU 'value-added goods' exports grew 0.8% and non-EU exports 1.2%, including a 40% increase in tomato ketchup and increased sales of bakery goods.

The FDF said the long-term trend of increased exports could be further boosted by the signing of more free-trade agreements, pointing to a doubling of exports to South Korea since a free-trade deal was agreed in 2011.
Value of exports
| | H1 2015 | Change from H1 2014 |
| --- | --- | --- |
| Global food & non-alcoholic drink | £6.0bn | -5.3% |
| EU | £4.7bn | -7.5% |
| Non-EU | £1.7bn | 1 |
| EU % share | 72.1% | -1.8ppts |
| Non-EU % share | 27.9% | +1.8ppts |
| Balance of trade | -£11.4bn | -1.1% |