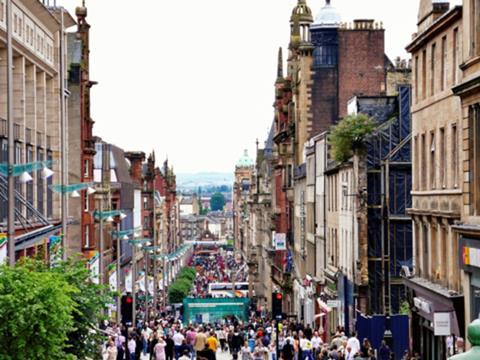 Food retailers managed to record growth in March but the rise was mainly driven by inflation as the sector pins its hopes on a bumper Easter.
The latest figures from the BRC – KPMG monthly monitor showed food sales decreased 0.2% on a like-for-like basis but increased 1.2% in total over the three months to the end of March.
It was the first time in four months that the three-month average total growth was below 2%, but the 12-month total average growth rose to 1.5%.
The picture on the high street in general was grimmer as the rise in overall food sales in March failed to offset falls for other retailers. On a total basis, sales fell 0.2% in March, against flat growth in March 2016. This remains below the three-month average of 0.1% and the 12-month average of 0.8%, but was negatively distorted by the timing of Easter, the figures revealed.
UK retail sales slumped 1% on a like-for-like basis from March 2016, when they had decreased 0.7% from the preceding year.
Over the three-months to March, non-Food retail sales in the UK declined 1.1% on a like-for-like basis and 0.8% on a total basis. This is the slowest three-month total average growth since May 2011, and drags the 12-month total average growth to 0.3%, the lowest since April 2012.
"Food sales continue to outperform non-food sales as shoppers focus their spending on essential items," said British Retail Consortium CEO Helen Dickinson.
"This marginal growth in food was bolstered by slightly higher shop prices following increases in global food commodity costs and a weaker pound. The pressure on prices continues to build, albeit slowly, and will inevitably put a tighter squeeze on disposable income and so to ensure consumers continue to enjoy great quality, choice and value on goods, securing tariff free-trade must be the priority as the Brexit negotiations begin in earnest."
IGC chief executive Joanne Denney-Finch cautioned that it was difficult to interpret the food retail figures for March because of the shifting Easter week.
"Although sales dipped versus last year, there is every opportunity for retailers to recoup the lost ground in April," she added.
"Easter is the second-biggest peak in the year for food shopping and, just as at Christmas, online is playing a growing part. 43% of shoppers say they have bought some of their groceries online in the last month, while 60% intend to shop online for groceries over the next three years."
Paul Martin, UK head of retail at KPMG said: "Food sales remained in the black for a full quarter, although this is largely being driven by rising inflation, so no reason for too much celebration."
Dickinson added: "First impressions of March's sales figures are underwhelming, with the first decline since August last year. That said, the distortion which results from the timing of Easter always makes spring a tricky period to assess and the later timing of the holiday this year certainly detracted from last month's performance."