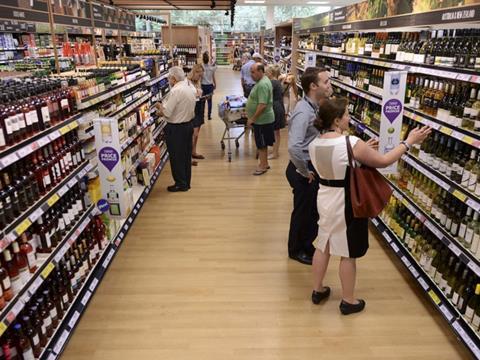 Top story
Total food sales have increased by 0.3% in the three months to the end of May, according to the BRC-KPMG Retail Sales Monitor.
The 0.3% is the sector's best sales performance since October and the 12-month food sales average also improved to 0.2%.
Joanne Denney-Finch, IGD chief executive, commented: "An increase in sales for May over last year, in spite of lower prices, is encouraging for food and grocery companies, especially as it cannot be attributed to particularly warm weather.
She added that for only the second time since tracking the question in 2010 a higher number of grocery shoppers plan to focus more on quality in the year ahead (22%) than those prioritising saving money (19%).
"There is further cause for optimism. Big international football tournaments are usually good for food and drink sales and this time there are three UK teams to support."
Overall UK retail sales increased by 0.5% on a like-for-like basis from May 2015, when they had remained flat from the preceding year.
On a total basis, sales rose 1.4%, against a 1.1% increase in May 2015.
Helen Dickinson, chief exec of the BRC said: "Today's figures bring better news for the UK's retailers.
"While this month's pick-up in sales will come as a welcome relief, it's still a challenging time for retailers. Shop price deflation continues and intensity of competition is fierce. Controlling costs and improving efficiency and productivity will be crucial for retailers as they continue to navigate increasingly tough trading conditions."
Morning update
There's nothing on the market this morning to excite as the grocery industry waits for Sainsbury's first quarter sales update tomorrow morning.
In the meantime, Shore Capital's Clive Black has penned an opinion piece for The Grocer about how Walmart has finally woken up to the sustained underperformance of its UK supermarket chain Asda. Read the piece in full here.
On the markets this morning the FTSE 100 has defied Brexit worries to open up 0.7% at 6,320pts.
There's little movement amongst the sector's biggest stocks, with the major FTSE 100 grocery/fmcg risers being Marks & Spencer (MKS), up 0.9% to 366.5p and Coca-Cola HBC (CCH), up 1.1% to 1,409p.
Elsewhere, McColl's Retail Group (MCLS) is up 2.9% to 159.5p, PureCircle (PURE) is up 2.4% to 348p and Conviviality (CVR) is up 1.9% to 205.8p.
Fallers include Science in Sport (SIS), down 1.7% to 51.9p and C&C Group (CCR), down 0.8% to €4.12.
Yesterday in the City
After heavy supermarket share price falls on Friday following Walmart's pledge that Asda will shift its focus from protecting profits to winning back market share, there was some respite for the sector yesterday.
Morrisons (MRW) and Sainsbury's (SBRY) both ended the day edging up, rising 0.2% to 189.2p and 0.6% to 247.6p respectively. Ocado (OCDO), up 2.2% to 269.3p, and Marks & Spencer (MKS), up 1.9% to 363.4p also both had good days.
The tough trading continued for Tesco (TSCO) however, which ended the day 1.7% down to 159.2p.
Other losers included Greencore (GNC), down 2.7% to 330p and Hilton Food Group (HFG), down 3.8% to 538.5p.
FTSE 100 Coke bottler Coca-Cola HBC leapt 4.7% to 1,394p after hosting an investor event yesterday where it reiterated that it expects average annual revenue growth rate in the range 4-5% on a currency-neutral basis.
PZ Cussons (PZC) was up 1.7% to 336.7p, British American Tobacco (BAT) was 1.6% up to 4,271.5p and Finsbury Food Group was 2.2% up to 119p.