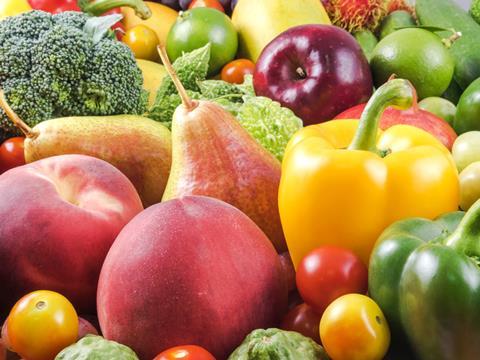 Top story
Food prices fell 0.4% in March for the second month in a row as the big four supermarkets lowered the price of fruit and veg in their ongoing battle with Aldi and Lidl, according to the latest figures from the British Retail Consortium and Nielsen.
Fresh food deflation came in at 0.9% during the month – the same decline as in February – while ambient actually rose 0.4%, slightly up on the 0.3% inflation reported the month before.
The BRC-Nielsen shop price index also showed overall shop prices reported deflation of 1.7% in March from the 2% decline in February, with non-food prices falling for the 36th consecutive month (2.6% deflation, up from 3% in February).
British Retail Consortium CEO Helen Dickinson said: "This month shoppers can celebrate three years of falling non-food prices. Overall, shop prices fell by 1.7 per cent last month compared to March 2015 as a result of continuing intense competition and retailers ongoing investment in price.
"Food prices dropped 0.4 per cent for the second consecutive month, driven largely by reductions in fresh food, while ambient prices rose slightly.
"Despite consumer confidence remaining at zero, a relatively benign economic environment (inflation remains very low and oil is trading at just under $40 per barrel) and a fiercely competitive market will see retailers continue to respond to their customers with prices and promotions to maintain market share as the spring season kicks off."
Mike Watkins, head of retailer and business insight at Nielsen, added: "Shoppers are still making changes to how they spend to stay within their household budget and looking out for price cuts and promotions is one of the ways to save money. So with shop prices continuing to be lower than a year ago this is good news for shoppers. With spring arriving, retailers will be hoping that this drives store traffic as so far this year, retail sales have been rather unpredictable."
Morning update
There is little else of note to report on a very quiet morning on the stock market ahead of a big day for Marks & Spencer tomorrow and the full-year results from The Co-op.
Waitrose had a terrible week on the face of it in the seven days to 2 April with total sales excluding fuel down a whopping 24.1% to £114.1m. However, this was heavily influenced by the early fall of Easter this year. Independent retail analyst Nick Bubb said a more meaningful comparison was that sales were 1.8% above the equivalent post-Easter week in 2015 (only about 0.5% down LFL). Over the last nine weeks, cumulative Waitrose sales are up by 1.4% and about 1% down on a like-for-like basis.
The FTSE 100 has bounced back 0.6% this morning to 6,128.85 points, with Tesco also back in the black, rising 0.9% to 189.3p after yesterday's falls (see below). Ocado has had a strong morning with shares up another 1.7% to 344.9p and M&S was also up 1.2% to 413.8p ahead of tomorrow's results.
Yesterday in the City
Tesco (TSCO) was seen as the big loser from the latest Kantar market share data with the shares falling 1.7% to 187.7p despite improving sales trends. It comes ahead of next Tuesday's full-year results and as Deutsche took the stock off its 'buy' list on valuation grounds. Morrisons (MRW), which sales fell 2.4%, also fell 0.5% to 200.2p. And Sainsbury's (SBRY) managed to finish the day in the black, with the stock rising 0.5% to 278.3p as an early Easter boosted sales by 1.2% year on year.
Ocado (OCDO) had another good day with the share price up 3% more to 336.5p on the back of international opportunities in the US. Shares in the online grocer are up almost 17% since Friday.
Marks & Spencer (MKS) finished down 0.4% to 408.8p as new CEO Steve Rowe prepares for his first quarterly update on Thursday.
Two companies which updated the market on recent trading had poor days, with TATE & Lyle (TATE) closing down 0.8% to 583.5p and stevia producer PureCircle (PURE) falling 1.6% to 374.1p. Tate said its fourth quarter performance was "in line with both expectations and the outlook included in the trading statement of 11 February 2016". PureCircle said developments in the global sweetener market, including regulatory approvals in India and Brazil and government action against sugar in the UK, have continued to favour the mid- to long-term growth prospects for stevia.
The FTSE 100 was back in the doldrums as soft oil prices returned to hit the energy and mining sectors contributing to a 1.2% fall to 6,091.2 points.