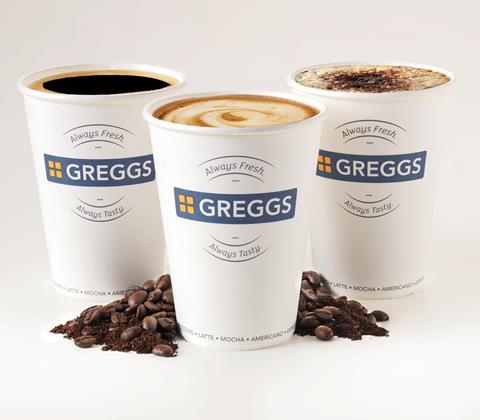 Top story
Greggs (GRG) is planning to cut more than 350 jobs as part of a £100m investment programme as it continues its transformation away from a bakery into a food-to-go-operator.
It comes as the high street chain posts a second consecutive year of record profits, a 5.2% hike in total sales to £835.7m and a 4.7% jump in like-for-like sales in the 12 months to 2 January.
Despite growth slowing in the fourth quarter as customer footfall declined in certain areas, Greggs increased pre-tax profits 25.4% to £73m and dividends by 30% to 28.6p a share.
Greggs also announced a £100m five-year investment programme this morning to create additional manufacturing centres of excellence and increase capacity to support the expansion of its shop to more than 2,000 UK sites.
However, a total of 355 jobs are at risk at the business as it mulls the closure of some of its 12 bakeries which it said were "not suitable for long-term investment due to their location and size". The company is proposing to close the three sites in are Twickenham, Edinburgh and Sleaford and will use the cash from the disposal to invest in the remaining bakeries over the course of the programme.
It is also taking steps to centralise support services which will include the restructuring among regional teams.
"These are difficult changes that we believe are needed to support the long-term growth of the business," Greggs said. "However, our immediate priority is to work to minimise the negative impact on our people, many of whom have worked in these roles for a significant number of years. Wherever possible we would look to offer alternative employment to affected employees but, due to the location of our sites, we anticipate that unfortunately many will leave the business."
It follows the loss of 400 jobs at the start of 2014 as it scrapped a host of in-store bakeries as part of the new plan to focus on food-to-go.
Morning update
Sales at McColl's Retail Group (MCLS) have increased 3.1% to £932.2m in the year ended 29 November as the chain continued to grow the number of convenience stores in its estate. However, like-for-like sales in the period fell 1.9%, with the premium convenience and food and wine numbers slightly down by 0.6% and the standard convenience and newsagents slumping 4%. Pre-tax profits rose from £12.6m a year ago to £21.1m, but underlying operating profits were flat at £24m as the figures were adjusted for the extra week of trading in the previous year.
CEO James Lancaster said: "I am pleased to announce financial results in line with expectations for 2015. In a challenging market we have grown sales and improved profits, at the same time we continue to deliver on our strategy of evolving our store portfolio. This year will see us reach 1,000 convenience stores, 50% more than we operated just four years ago. Additionally, we will extend and expand the range of products and services we provide to neighbourhoods across the country, at the most convenient."
In the 13 weeks to 28 February McColl's has seen like-for-like sales fall 1.8%, with the premium convenience part of the estate holding up but trading still challenging in the newsagents.
Sales at stevia producer PureCircle (PURE) have rose 26% to $54.5m in the six months to the end of 2015 as the group registered growth in all regions and across all ingredients. Adjusted EBITDA also increased 108% to $13.5m compared with a year ago.
CEO Magomet Malsagov said: "Despite continued uncertainty in global economies and capital markets, during 1H FY16 all key industry trends have continued to develop in favour of stevia. Regulators, politicians and F&B companies in all regions are being challenged to find solutions to obesity and diabetes."
However, he warned that despite significant medium to long-term growth in sales and profitability, the pace of the growth was expected to be "uneven".
Spending power jumped almost 7%, up £12 compared with last year, to reach £197 a week in January as employment levels continued to rise, according to Asda's latest income tracker. However, the findings also showed that January marked the fourth consecutive month where the year-on-year rate of spending power growth has fallen, thanks to a slowdown in wage growth and a steady increase in inflation. Asda said this suggested the slowing rate of recovery was having a knock on effect on British purse strings, with disposable income set to continue to grow at a slower rate than those seen through much of 2015.
Asda CEO Andy Clarke added: ""The good news is that the outlook for 2016 is positive for UK households, with incomes increasing and employment buoyant. Whether families choose to save their extra income or boost spending on leisure, treats or everyday essentials remains to be seen."
Shares in Greggs spiked 7.3% to 1,110.2p this morning despite the slowing sales in Q4 as the City reacted positively to news of the £100m investment programme. McColl's also rose 1.4% to 145p on the bakc of its results and PureCircle also stopped the recent decline with a 3% rise to 324.5p. Morrisons also started the day by climbing another 2.5% to 204p, while the misery continued at Ocado, which fell 1% to 257.5p. The FTSE 100 also started the day positively, up 0.7% to 6,141.72 points so far.
Yesterday in the City
There were contrasting fortunes for Morrisons (MRW) and Ocado (OCDO) yesterday after the Bradford-headquartered supermarket revealed it had signed a deal to supply Amazon with hundreds of fresh, ambient and frozen products.
Morrisons shares soared almost 6% to 199p as a result – levels not seen since April last year. However, Ocado investors suffered a miserable day as the stock took a hammering on fears the online grocer would have the most to lose from Amazon gaining a bigger foothold in the UK. Shares in the business slumped 9% to 256.3p, which is not down to the lows seen in February when the stock traded as low as 232p. The price has recently been inflated on market speculation that Amazon may tie up with Ocado or even engage in a take-out play.
Tesco (TSCO) also took a hit – falling 2% to 180.4p – as the City wondered if Morrisons had suddenly gotten the jump on its big four rivals. Sainsbury's (SBRY) rallied in the afternoon to get its head back above water at 254.4p (0.6% up) after spending most of the day in the red.
The FTSE 100 also managed to stay on the right side of the black, climbing 1.1% to 6,077.6 points, despite other European exchanges falling behind after the weekend meeting of G20 finance chiefs failed to produce a new plan for global growth.
Elsewhere Greggs fell 1.5% to 1,029.4p ahead of this morning's full-year results. Other fallers included PureCircle, down 4% to 317p, which also reported figures this morning, Premier Foods (PFD) and Fever-Tree (FEVR).
Finsbury Food (FIF), Majestic Wine (WINE) and Kerry Group (KYGA) all were among the day's risers.