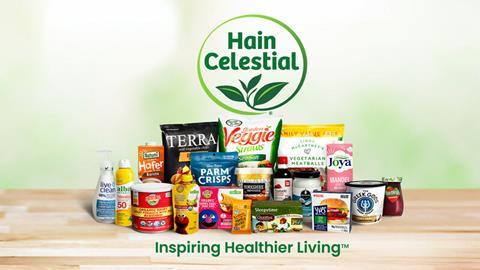 US CPG giant Hain Celestial has signalled a potential brand sell-off as it launched a formal restructuring effort in a bid to simplify the business and boost margins and long-term profitability.
The group behind the likes of Ella's Kitchen, Covent Garden, Yorkshire Provender, Sun-Pat, Hartley's and Clarks is targeting annual savings of $130m-$150m (£104.1m-£120.1m) by the 2027 financial year.
It expects one-off restructuring costs to be in the range of $115m-$125m across FY2024 and FY2025, with savings from the programme to be used to fund the group's transformation.
Hain, which unveiled the 'Hain Reimagined' strategy at an investor day in New York, said it intended to expand operating margins through the optimisation of its brand portfolio, organisation, end-to-end supply chain and working capital.
The group did not detail how many, or if any, redundancies would result from the plan or which brands it would seek to divest.
The Grocer did not receive a response to a request for comment from the group or from the Hain Daniels UK operation.
Shares in the group soared by 11.4% to $10.74 in pre-trading ahead of markets opening in New York.
CEO Wendy Davidson said that, following "a comprehensive" review of the business, the multi-year transformation plan was designed to "drive long-term sustainable growth and attractive shareholder returns".
"Fiscal 2024 marks the foundational year of our plan, during which we will simplify the business, reset our global operating model, initiate our 'Fuel Program', invest to jumpstart critical capabilities, and begin our pivot to growth," she added. "By fiscal 2027, we expect to deliver sustained revenue and profit growth with a reimagined end-to-end supply chain, modern digital infrastructure, and performance-driven culture that will enable our brands to expand reach and grow share."
Hain has been under investor pressure in recent years following its underperformance, with activists pushing for the group to sell off more brands. Rumours have also persisted that the group has been looking to offload the Hain Daniels portfolio of UK assets, excluding the lucrative Ella's Kitchen brand.
Shares in the group have fallen by 42.9% in the past year, valuing the business at less than $1bn.
Hain plans to simplify its footprint and maintain a direct presence in five key markets: the US, Canada, UK, Ireland and Europe.
The group said growth would primarily be driven through its focus on 'better for you' products in the snacking, baby and drinks categories.
Hain outlined an expectation for the plan to deliver long-term organic net sales compound annual growth rate of above 3% and adjusted EBITDA growth of at least 10%.
Alongside the turnaround plan, Hain also unveiled a new company logo and corporate identity.
"After thoughtful planning and feedback received from our teams around the world, 'The Hain Way' articulates our company ethos and what brings us together as One Hain Team," added Davidson. "As we transform into a globally integrated enterprise, our focused portfolio of better-for-you brands enables us to deliver on our purpose and our ability to meet the evolving needs of our consumers and customers.
"I look forward to executing our strategy to realise our full potential and deliver on our purpose to inspire healthier living for people, communities, and the planet through better-for-you brands."
The plan follows the August announcement that the group would move its global headquarters from Boulder, Colorado to Hoboken, New Jersey.
It also made changes to its board earlier this month, with the appointment of former Warburtons boss Neil Campbell as a director and Lee Boyce as new CFO.
Revenues at Hain fell 5% to $1.8bn in the year ended 30 June 2023, with losses widening from $77.9m to $116.5m.