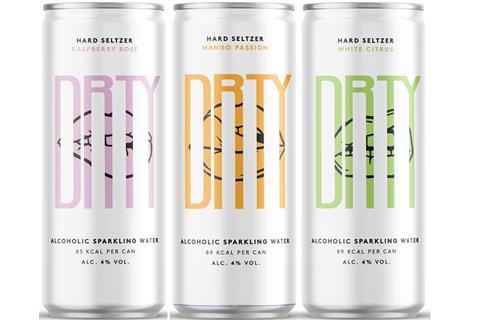 Hard seltzer startup Drty Drinks has secured a £500k cash boost from angel investors, The Grocer can reveal.
The six-figure injection came from a group of six investors, one of which was a consortium, and others including family, friends and individuals accessed through its network of contacts.
It plans to spend the investment on new product development, retail expansion, international expansion and upweighting its marketing.
It has already begun rolling out new products, with a Mango & Passionfruit hard seltzer (4% abv) launching earlier this month at Whole Foods, Amazon and independents.
Overseas, it hopes to build on its existing international customer base in Europe and South Korea, it said.
Having launched in October last year, Drty Drinks has spent more than half of its time as a business in the uncertain economic climate.
Co-founder Oli Clements said that when the pandemic hit, Drty Drinks was "really just getting started".
But, he added, while many established brands would have had sales drop to zero overnight, "we were fortunate that we weren't so well established, particularly in the on-trade, so we didn't have that dramatic reduction. What it did do was cancel out some wins we had in the pipeline and that we thought would happen in March."
Despite initial concerns, online business started to soar and Amazon sales went up to 13 times what they were before the pandemic.
Clements said the team felt it "needed the investment to service this growing demand".