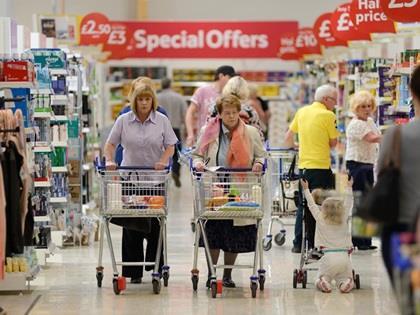 Heavy share price falls across global stock markets have created a buying opportunity for undervalued UK supermarket stocks, according to broker Bernstein.
The FTSE 100 has lost more than 10% of its value since the markets opened last Monday (24 February) amid mounting concern about the global spread of the coronavirus.
Consumer stocks have been amongst those worst hit, including the UK supermarket sector.
Industry leader Tesco (TSCO) has lost 11% over the period since 24 February. Morrisons (MRW) had lost 7.9% by close on Friday before a recovery today and Sainsbury's (SBRY) was 7.1% down on Friday before a similar recovery today.
Bernstein analyst Bruno Monteyne called the food retail industry "the most unloved part of an already-unloved sector".
He said valuations had been suppressed by the grocer's reputation as "a terrible sector with bad headlines", Brexit weighing on UK consumer stocks and a few months of zero grocery growth.
"That's bad enough to start with, but for those UK names to also sell off more than the average market and their European peers on the back of the Covid-19 fear is a step too far, and provides a buying opportunity," he said.
"What happened to the fact that food retail is a necessity? People will keep eating."
He acknowledges that – in the event of further spread of the coronavirus in the UK – supply chains would be disrupted and could lead to "panic buying, empty shelves and food riots".
However, he suggests the industry will be drawing up contingency plans with suppliers to cope with a major outbreak.
"Yes it will be chaotic (and expect pictures of empty shelves), but the industry will reduce complexity to keep the country fed.
"Sales will actually be resilient (as food out-of-the-home shifts to in-home food) but profits will take a hit as retailers will be reluctant to pass on the temporary operational costs of dealing with the disruption."
The cost to the industry's operating profits could be around £1.2bn, which would represent a 3.4% drop in equity value – however, the listed grocers were all trading significantly lower than that implied value drop over the weekend.
"It is difficult to catch a falling knife, but valuations are low enough for the sector to be a buy."
Bernstein picks Tesco as its top pick, due to "having the strongest strategic position… with Booker optionality during a potential break out", while Morrisons is its second pick and Sainsbury's third due to its exposure to discretionary retail through Argos.
Morrisons – threatened with ejection from the FTSE 100 this week – has jumped back up 5.1% to 180p so far today with Sainsbury's up 4.1% to 203.7p.
Tesco slipped a further 0.7% to 226.9p.