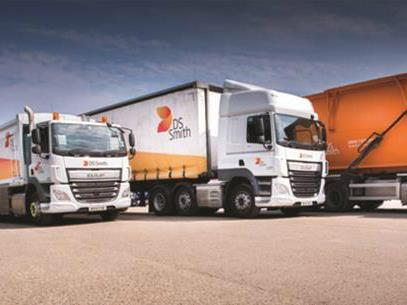 Top story
FTSE 100 packaging firm DS Smith (SMDS) grew organic revenues by 3.2% in the first half due to volume growth and market share gains and announced plans to sell its plastics division.
The company recorded organic volume growth of 3.2% in the six months to 31 October 2018 despite the cost of corrugated boxes rising to fully recover the higher price of paper.
For the half year period, revenues increased on a constant currency basis by 16% to £3.1bn, principally reflecting the full recovery of paper prices through these higher box selling price rises, the contribution from acquired businesses, particularly North America, and volume growth in corrugated boxes.
Group revenues also increased on a reported basis by 15%, with the organic growth contribution being 6%.
In the UK revenues increased 4% to £577m as corrugated box volumes in the period were strong, "reflecting continued success with large FMCG customers, and a sustained leading position in e-commerce which is being replicated in other European regions".
Sales in the US jumped up by 210% to £341m driven by the inclusion of acquisitions Interstate Resources and Corrugated Container Corp, but also a rise in corrugate box volumes.
Overall return on sales for the period was 9.9%, up 120 basis points on the comparable prior period, and now at the top of the group's target range of 8 - 10%.
The comparable prior period last year was adversely influenced by the headwind of rising input costs which have now been recovered. Therefore, adjusted operating profit was up 32% on a constant currency basis, with the organic growth contribution being 11%.
Additionally, following the initial review of its plastics business, the board has decided to put the "attractive asset with good growth prospects" up for sale and the division is now being treated as a discontinued business.
The plastics business saw revenues rise 2% in the period, though there has been some impact to short term profitability due to the impact of higher polymer prices and the normal lag in recovery through prices.
DS Smith said the overall outlook for the group "remains positive" as the recovery of paper price increases that has been ongoing over the past 12 - 18 months is now completed.
"The growth drivers for packaging, such as e-commerce, sustainable packaging and the more sophisticated requirements of customers and retailers remain, continuing the long-term trend of structural growth," it stated.
CEO Miles Roberst commented: "We are very pleased with the progress we have made over the last six months. We have strong momentum in the market, delivering good top line growth and substantially increased profit levels.
"We continue to win market share through our strong FMCG presence and our leadership in both e-commerce and sustainable packaging. DS Smith is extremely well positioned to capitalise on these ongoing growth trends and we are confident about the future prospects for the business."
Morning update
Troubled South African retail group and Poundland owner Steinhoff has delayed the publication of the results of a forensic investigation into its accounts and its annual results for 2017 and 2018.
The forensic investigation under PwC has been "significantly more complex than initially anticipated", meaning the investigation is expected to complete by the end of February 2019.
Steinhoff will then publish an overview of the findings after it has reviewed the final report.
Because of this delay and the potential impact of PwC's findings on its consolidated financial accounts, the company will not now publish its audited financial statements for 2017 and 2018 until the April 2019.
The group had previously guided that the investigation would be completed by the end of the year and its accounts would follow shortly afterwards.
Chairperson Heather Sonn said: "We sincerely regret this revision to the reporting timeline. While substantial progress has been made, the volume and complexity of the work required, including the interactions between the various parties, has been significantly greater than initially anticipated and more time is needed for all parties involved to complete the outstanding tasks.
"In parallel, our financial restructuring continues to make good progress. Our recently announced plans regarding the restructuring of the Group's financial indebtedness are significant milestones and will bring in a new period of financial stability for the group. These plans are unaffected by today's announcement."
On the markets this morning, the FTSE 100 has opened down another 1.5% to 6,818.8pts.
Early risers include Greggs (GRG), up 1.2% to 1,395p and C&C Group (CCR), up 0.8% to €3.04.
Fallers so far include PayPoint (PAY), down 4.3% to 848.3p, Just Eat (JE), down 4% to 542p, Britvic (BVIC), down 3.3% to 814.5p and Ocado (OCDO), down 3.1% to 795.8p.
DS Smith is down 3.6% to 314.7p after this morning's first half results.
Yesterday in the City
FTSE 100 plunged 1.4% back to 6,921.8pts reacting to an overnight plunge in US stocks as hopes of a trade agreement between the US and China diminished.
A number of FTSE 100 consumer names with global revenues suffered yesterday. Worst hit was Reckitt Benckiser (RB), down 3.3% to 6,404p, while Coca-Cola HBC (CCH) fell 1.5% to 2395p, Unilever (UVLR) fell 1.3% to 4,240.5p, Diageo (DGE) dropped 1.3% to 2,812p and Compass Group (CPG) fell 1.2% to 1,671p.
McColl's continued its wretched week, falling a further 6.5% back to 72p after its latest profits warning on Monday, while other fallers included McBride (MCB), down 3.1% to 140p, PZ Cussons (PZC), down 2.4% to 224.2p and Tate & Lyle (TATE), down 2% to 694.6p.
Greencore (GNC) considerably outperformed the market yesterday after posting solid first half results on Tuesday, rising 3.5% to 184.1p.
Other risers included PayPoint (PAY), up 3.3% to 886p, PureCircle (PURE), up 3.3% to 886p, Tesco (TSCO), up 1% to 199p and WH Smith (SMWH), up 1% to 1,899p.
Stock Spirits Group (STCK), jumped 7.3% to 209.5p after announcing yesterday that operating profits have surged 16.8% for the nine months to 30 September 2018 as sales rose 8.7%.