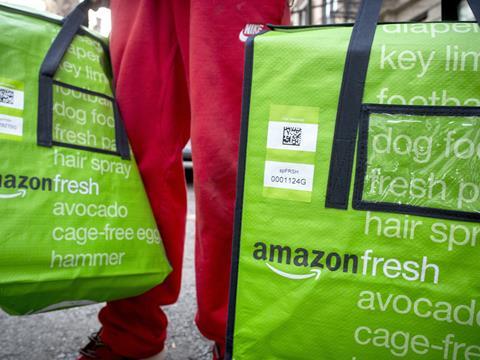 It's no surprise that the tie-up between Amazon and Morrisons gets blanket coverage in this morning's papers.
The Daily Mail focuses on the spike in Morrisons share price on the back of the announcement, with Ocado shares going into reverse. Nils Pratley over at The Guardian writes that the stock market reaction to Morrisons' Amazon tie-up is "hard to argue with". "On the principle… it's better to be cuddly with the Amazonian monster than to stand in its path, the chief executive of Morrisons, David Potts, is being pragmatic in signing a deal to supply hundreds of fresh, frozen and ambient products to the US online retailer."
The Financial Times argues that despite the deal marking the online store's boldest step into any grocery market outside the US the plan to sell Morrisons own-brand products was not the all-out assault retail analysts had been expecting. The paper's Lex column added that there were few hard rules in global retail in 2016… "But here is one: wherever money is not being made, Amazon will appear and make things worse."
The Times described the "seismic shift" as the moment grocers had been dreading. "Amazon, which has sucked so much of the profit out of selling books and CDs, is entering the food business," the paper said.
Alex Brummer at The Mail writes that Morrisons may be the weakest of the big four supermarkets, but it now looked in "fine fettle" after Amazon and Ocado deals. "David Potts, one of the Tesco refugees now at Morrisons, is throwing down the gauntlet to rivals." The Telegraph's chief business correspondent writes Amazon's arrival could let Morrisons off the hook online, giving the Bradford supermarket's dot.com business options.
Other papers focused on Ocado's suffering, despite the online grocer signing Morrisons up for more space at its Erith CFC. Alistair Osborne in The Times said: "No wonder Ocado boss Tim Steiner called it a 'win-win arrangement'. That's how the market saw it, too: it took £130 million off Ocado's value and upped Morrisons' by £260 million. Both winners there, all right." The FT also writes that Ocado "suffered a blow" as Amazon struck its first major deal with a British supermarket. The Independent said the deal risked "leaving Ocado on the shelf".