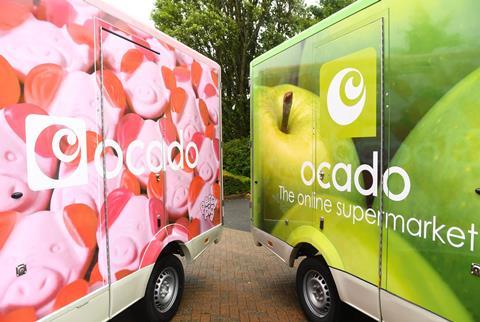 The first deliveries of Marks & Spencer's groceries will reach customers on Tuesday as its online shopping venture with Ocado begins (The Guardian). From Tuesday, Marks & Spencer will begin doing something many of its competitors have been doing for years - it is making its full food range available to order online (The BBC).
Marks & Spencer outmuscled Waitrose to supply the online grocer. Now it needs the tie-up to deliver. Ocado boss Time Steiner is confident he will come out on top in the tussle for middle England's shoppers, a process he set in motion by selling 50% of Ocado's retail business to M&S for £750m last year. (The Times £)
Waitrose is teaming up with Deliveroo so it can deliver groceries in just 30 minutes, with a retail expert suggesting that coronavirus could change the way we shop for good. (Sky News)
Ocado's chief executive has fired a withering parting shot at Waitrose on the eve of its switch to Marks & Spencer. Tim Steiner said: "They [Waitrose] have done an advert saying 'we'll take it from here' or something. Well, they can't take it from here because they don't have the technology, the infrastructure or the systems. To put it bluntly, they don't understand the online market like we do." (The Times £)
Meanwhile, The Telegraph suggests consumers buy Marks & Spencer treats via Ocado by all means, but leave its shares on the shelf. "Too many questions remain about its chances of recovery to make the stock attractive even at today's cut-price valuation." (The Telegraph)
A posh pet-food maker is changing hands in a deal that is understood to value it at about £50m. Forthglade, which claims to make "100% natural" food that is better for animals' health, will sell an 80% shareholding to the Nordic private equity firm IK Investment Partners. (The Times £)
Nestlé's health arm has agreed to buy the biopharmaceutical company Aimmune Therapeutics in a $2.6bn deal that will see the consumer goods group push further into food allergy prevention. (The Financial Times £)
Its latest acquisition, California-based Aimmune Therapeutics, marks the company's biggest gamble yet on health science… The combination of food and drugs is not as odd as it sounds. Sales of highly processed foods are on the wane. Food and pharmaceutical groups are converging around high-margin, non-prescription health products, for both humans and animals. (The Financial Times £)
The levy for single use plastic bags will double to 10p and apply to all retailers from next spring under government plans to tackle Britain's throwaway culture (The Financial Times £). The government is to double the charge for single-use plastic carrier bags in England from 5p to 10p and end the exemption for smaller shops from April 2021, as it steps up efforts to tackle plastic pollution (The Guardian). The fee for plastic shopping bags in England will be doubled to 10p and extended to all shops from April 2021 (The BBC).
Marcus Rashford has announced an alliance with the food industry to tackle child food poverty. The England football international has brought together the Child Food Poverty Task Force with Aldi, Asda, Co-op, Deliveroo, FareShare, Food Foundation, Iceland, Kellogg's, Lidl, Sainsbury's, Tesco, and Waitrose. (Sky News)
Diners rushed to their local cafes, bars and restaurants on Monday – the last day of the UK government's hugely popular eat out to help out scheme (The Guardian). The government's Eat Out to Help Out discount ended on Monday, having been praised by many of the restaurants, cafes and pubs it was designed to help (The BBC). The chancellor is urging UK consumers to continue eating out at restaurants, as he winds up the government's subsidised dining scheme on Monday (The Guardian).
For a business operating on wafer thin margins after months of enforced closure during the coronavirus lockdown, the government-backed discount dining scheme, which ends on Monday, worked in terms of boosting sales. But it almost pushed his staff to breaking point. (The Financial Times £)
Hospitality faces its 'darkest of days' and 'a crisis like no other', writes The Times. In a survey by the Night Time Industries Association, 58% of businesses feared they would not survive longer than two months without further government support, putting an estimated 754,000 jobs at risk. (The Times £)
Companies using the government's coronavirus furlough scheme are now having to contribute to workers' wages. (The BBC)
Mike Ashley has renewed his campaign to secure a meeting with Boris Johnson to discuss the reform of "crippling" business rates. The retail tycoon has warned the prime minister of "disastrous consequences" for jobs if the government fails to act. (The Times £)
Top landlords have hit out at retailers for "weaponising" a controversial restructuring technique as part of a bid to cut costs (The Telegraph). Cash-strapped business owners have warned they are at risk because landlords are refusing to compromise on rent, triggering calls for further protection amid fears of a brutal autumn (The Telegraph).
Independent shops are unlikely to join the government's push to get workers back to the office, according to the body representing the sector, after enjoying a boost in sales thanks to a drop in commuting. (The Guardian)
The Hut Group has been accused of 'awful' corporate governance standards ahead of its blockbuster listing. The British online shopping business will float in mid-September with a value of £4.5billion – one of the biggest London debuts in years. (The Daily Mail)
'Some people still think we sell CDs and DVDs", says Matt Moulding, executive chairman and chief executive of The Hut Group, as he laughs about his company's low profile. His life under the radar is expected to change shortly, though, as the Manchester-based retailer hurtles towards a stock market listing that will value it at £4.5bn. (The Times £)
Artisan chocolate brand Montezuma's is to defy the gloom engulfing the high street as a result of coronavirus by opening more shops and hiring new staff. (The Guardian)
Greggs is aiming to reopen a distribution depot next week where about 20 members of staff tested positive for coronavirus. (The Times £)
Walmart is revamping and rebranding its rival to Amazon's Prime service as the world's biggest bricks-and-mortar retailer steps up efforts to cement loyalty among the shoppers it has won over during the pandemic. Fuel discounts and speedier shopping in stores as well as free online grocery delivery will be offered to US customers. (The Financial Times £)
Walmart had planned to put in its own bid to buy TikTok but the supermarket joined up with Microsoft after it was blocked by the US government. (The Times £)
Coca-Cola is to become the latest multinational company to cut thousands of jobs, setting out plans to restructure its business in response to a fall in demand after bars, restaurants and other venues closed to stop the spread of Covid-19. (The Financial Times £)
Beavertown, the craft brewery that he founded in 2012 by Logan Plant that makes the Gamma Ray and Neck Oil beers, among others, has built a brewery in Enfield, north London, that can produce 90 million pints a year. It is expected to create 150 jobs over the next three years, doubling the headcount at the business. (The Times £)