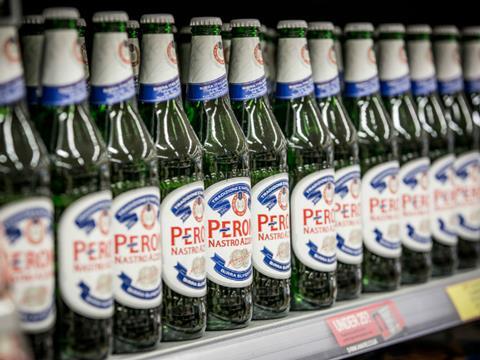 The Sunday Telegraph reports news from Japanese newspaper Yomiuri Shimbu that Asahi is planning a £2.4bn bid for Grolsch and Peroni. The SABMiller lager brands are being sold by AB InBev as part of its £68bn takeover.
The Sunday Times has spoken to three big shareholders in Argos owner Home Retail Group who have told the paper they want another £500m from Sainsbury's. The stunned the City last week with a £1.1bn swoop for HRG – a premium of more than 30% to the businesses value before news of an approach was made public. The shareholders have now demanded at least 200p a share, or £1.6bn.
However, The Mail on Sunday writes that Sainsbury's has begun a charm offensive to woo its own biggest shareholders as it prepares to table a formal £1.2bn takeover bid for Home Retail Group.
Sainsbury's is also set to step up its battle with Aldi and Lidl with plans to double the size of its Netto trial (The Guardian). The supermarket is understood to be planning a further 10 to 12 stores on top of the initial 15 which will be opened by the end of March. The Telegraph notes that Sainsbury's has lodged 10 planning applications for new Netto stores in the UK.
There are also a host of stories about how the supermarkets have fared this Christmas in the trading battle. And it seems the answer is not good. The Daily Mail headline reads "Tidal wave batters UK supermarkets as competition from discounters takes its toll on festive sales." It adds the "high street bloodbath" over Christmas was set to spread to Britain's biggest supermarkets this week with Tesco, Sainsbury's and Morrisons all expected to report a fall in festive sales. The Telegraph said that online shopping was also expected to deal a further blow to bricks and mortar retailers.