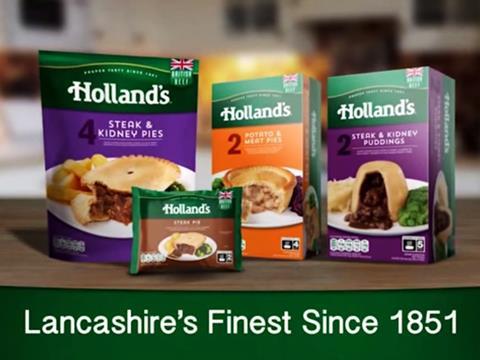 Chicken tycoon Ranjit Boparan is preparing to sell one of Britain's oldest pie makers as he scrambles to rescue his business empire. City sources said the 2 Sisters Food Group, owned by the Midlands-based entrepreneur, is weighing a disposal of Holland's Pies, which has been making "proper pies and puddings" in Lancashire since 1851. Bankers at Clearwater International have been appointed to run the sale process. (The Times £)
Supermarket giant Asda faces a £100m pay row after it emerged its staff are on worse contracts than those at Sainsbury's. The two grocers have announced plans to combine to create a £51 billion giant with 2,800 stores and 330,000 employees. But unions have held discussions with Asda staff over the pay disparity between the firms. (The Mail on Sunday)
The news that Sainsbury's boss Mike Coupe was "in the money" with a 46% pay boost thanks to a seven-figure annual bonus was heavily covered on Friday and Saturday (The FT, The Times, The Telegraph, The Guardian, The Daily Mail). Alex Brummer in The Mail called it "a second own goal from Sainsbury's chief executive", adding: ""None of this is likely to endear Coupe to Asda people, who will fear they too may have to make sacrifices".
Former Marks & Spencer chief executive Marc Bolland has been paid £62,899 by the company he left two years ago despite a collapse in profits since his departure. Bolland is due to be paid the sum in shares next month, according to the retailer's annual report. It will take his total pay to £17.2m for six years in power, ending in April 2016. (The Daily Mail)
Staff at Pret A Manger have each been promised a £1,000 windfall when the sale of the sandwich chain to German investors goes through, but for the founders and top managers, the £1.5bn deal is proving more lucrative. Sinclair Beecham, who co-founded the sandwich chain in 1986 with Julian Metcalfe, stands to gain more than £200m from the deal. (The Times £)
"Meat free" and vegan food sold at Britain's leading supermarkets contains traces of meat, an investigation by the Daily Telegraph has found. Laboratory tests found traces of pork in Sainsbury's own brand "meat free" meatballs and traces of turkey in a vegan macaroni ready meal from Tesco's new "Wicked Kitchen" line. (The Telegraph)
Traces of meat have allegedly been found in vegetarian and vegan ready meals - sparking an investigation by the Food Standards Agency (Sky News). The food watchdog is investigating claims meat was found in ready meals advertised in major supermarkets as suitable for vegans and vegetarians (The Guardian)
British shoppers will soon be able to find "fake" meats – including burgers that ooze lookalike "blood" when cut open – in the chiller section alongside real meats, as Sainsbury's announced its new vegan-friendly range would go on sale next month. (The Guardian)
Property giants are considering legal action against House of Fraser as the department store chain attempts to cut rents and shut stores (The Times £). House of Fraser's rescue deal could be unravelled by landlords who are planning to take legal action against it (The Daily Mail).
Retail space equivalent to about 180 football pitches has been handed back to landlords this year, in a stark sign of the challenges facing the high street. Analysis by Colliers International shows that 11.6 million sq ft of retail has been "lost" to administrations, company voluntary arrangements and planned store closures this year. (The Times £)
The National Lottery has reversed an annual sales slump after admitting it had "lost relevance" in the lives of Britons. Owner Camelot today announced ticket sales increased to almost £7bn in the year to March. This was after enduring what chief executive Nigel Railton labelled "one disappointing year". (The Telegraph)
Poundland is close to rolling out clothing brand Pep&Co into 300 stores as it looks to steal a slice of the discount fashion market. (The Telegraph)
The pressure on Stobart Group's chairman intensified this weekend as more than 20 of the company's top executives backed a letter calling for him to resign amid a bitter boardroom row (Sky News). The chairman of Stobart Group resisted fresh calls for him to resign yesterday as a boardroom row at the aviation and energy conglomerate escalated still further (The Times £).
The estranged former boss of Stobart Group earned £5.6m in pay and perks last year, shortly before civil war broke out at the aviation and energy conglomerate. (The Times £)
Shares in Monster Beverage hit a six-week high and were the best performer in the S&P 500 on Friday after the company said it was "highly likely" to raise prices for its drinks by the end of this year in an effort to counter rising commodity costs. (The Financial Times £)