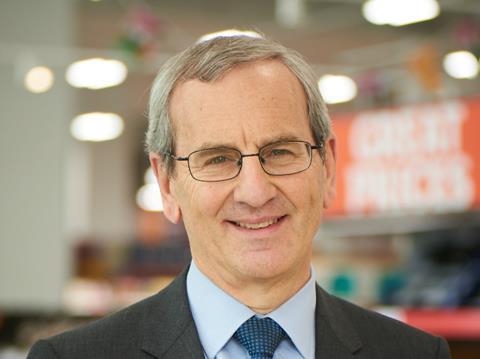 Sainsbury's is kicking off a search for a successor to David Tyler, its long-serving chairman, according to Sky News.
The retailer is working with headhunters on a process to identify candidates to replace Tyler, who took up the role almost eight years ago. A firm date for his departure has yet to be agreed, but he is thought to be likely to step down next year. The likeliest internal successor to Tyler is expected to be David Keens, a former Next finance chief who has been a Sainsbury's director since 2015. However, one source said the company would probably opt for an external replacement. (Sky News)
The move comes after Tyler was reprimanded by the board in January for using the company's suppliers to revamp his country home. (The Times £)
Morrisons is expected to post rising sales and profits when it releases half-year results on Thursday. Analysts are predicting like-for-like sales will rise 2.6 per cent in the first six months of the year, with HSBC tipping half-year profits will jump 30 per cent to £186m. (The Daily Mail)
Dairy Crest is set to save millions of pounds a year on pension payments to retired milkmen after switching benefit increases to a lower inflation metric. The FTSE 350 firm is responsible for final salary pensions for thousands of former milkmen who used to drop off milk bottles on Britain's doorsteps (The Telegraph). Fifteen thousand current and former Dairy Crest workers are to have their pensions cut by an average of £8,300 each during their lifetimes as a result of a change to the company's retirement arrangements. Dairy Crest said that it would no longer be increasing pension payments by the retail prices index each year, but was switching to the consumer prices index, a different measure of inflation that is usually significantly lower. (The Times £)
Tesco's £3.7 billion power grab to buy wholesale supplier Booker could destabilise the whole grocery market and severely diminish competition, rival food operators fear. Bestway Cash & Carry, which has a turnover of £2.3 billion, has raised grave doubts about the acquisition. (The Daily Mail)
The new owner of one of Britain's biggest fuel networks is plotting a rescue bid for Palmer & Harvey, the tobacco distributor which supplies tens of thousands of stores across the UK. Brookfield Business Partners, which this week completed a takeover of the road-fuel supplier Greenergy, is among a number of parties which have tabled offers for P&H in recent days. (Sky News)
Mars built its empire on chocolate but is now shifting. Sales growth of chocolate has stalled in the past few years and the confectionery giant is pushing into the fast-growing petcare sector. (The Financial Times £)
Despite economic uncertainty, Brexit and the soaring euro, it seems British holidaymakers carry on regardless. Our dedication to travel augurs well for SSP, which runs eateries, bars and food shops in airports and train stations around the world, writes The Daily Mail, advising investors to buy the stock. (The Daily Mail)
The Times (£) advises investors to sell Pets at Home, writing: "Pets at Home floated amid the frothy market of late 2013/ early 2014, alongside the likes of Poundland, AO World and Royal Mail. We all know what happened to the rest: Poundland was bought last year by South Africa's Steinhoff International for a knockdown price, Royal Mail has just been demoted from the FTSE 100 and AO World's value has plummeted from £1.6bn to £530m."
Mark Dunhill, chief executive of Whittard of Chelsea, is planning a concerted Asian expansion, with the business close to finalising a deal with a Chinese partner to open three stores there over the next twelve months. (The Times £)
The Times (£) writes that South African tycoon Christo Wiese has run into trouble with his £2.4bn bet on UK retail, which includes Steinhoff's acquisition of Poundland.
One of Britain's biggest brewers and pub operators Greene King sounded a fresh warning over the fragility of consumer confidence after seeing a slowdown in sales during the key summer trading period (The Times £). A rise in the cost of overseas holidays is likely to constrain consumer spending in pubs according to the boss of one of the UK's biggest chains. (The Telegraph)