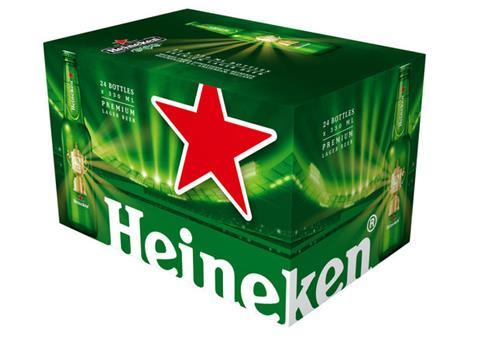 Heineken's second acquisition in as many months is covered this morning. The Financial Times writes that Japanese brewer Kirin has ended its Brazilian venture with $700m sale to Heineken, in a deal which makes the Dutch group the second-biggest brewer in the world's third-largest beer market. The Times says Heineken has continued an acquisition spree - after sealing the purchase of 1,900 pubs from Punch Taverns - as it bought one of Brazil's biggest brewers and soft drinks makers in a deal worth £870m, including debt.
The Times picks up an analyst note from Bernstein warning that Ocado could run out of cash to complete its all-important overseas licensing deal. In a bearish note to clients, Bruno Monteyne, questioned how Ocado would finance any deal to license its proprietary technology to third-party overseas retailers.
The Guardian follows up the BBC story that Tesco had failed to update multi-buy shelf labels. "Buy one, get none free?," the headline reads. The supermarket has vowed to review pricing at 3,500 stores after the investigation by BBC Inside Out uncovers widespread short-changing of customers.
Champagne drinkers in Britain face higher prices in the next year as the impact of the Brexit vote on the pound takes its toll, the drinks industry has warned (The Guardian). A "triple whammy" of Brexit, inflation and possible rising alcohol duty is forecast to push up the prices of champagne and prosecco in the UK by £1 and 59p per bottle respectively, the Wine and Spirit Trade Association said.
An opinion column in The Guardian defends millennials after a report blamed them and Instagram for food waste. "Food waste is a scandal, but to blame it on millennials is nonsense," Nell Frizell writes. "Instagram snaps of dinner aren't the cause: for that, look to an intensive farming and supermarket culture that has divorced people from how food is produced."
The troubled Co-op Bank announced it is putting itself up for sale while warning it is set to make another annual loss. The Telegraph says the loss-making bank almost collapsed in 2013 after discovering a black hole of more than £1bn. Speculation about potential buyers immediately focused on private equity houses or so-called challenger banks such as TSB, Clydesdale and Yorkshire Bank, Virgin Money and Santander, The Guardian reports. Patrick Collinson says in a business editorial in The Guardian that the Co-op Bank is the new Bradford & Bingley. "The proposed sale means the prospect of an independent, ethically based challenger bank to the major high street player is dead," he says. Smaller lenders are circling the Co-operative Bank looking to pick up bargains as it emerged that the stricken institution could have to raise almost £1bn to bolster its finances, The Times adds.