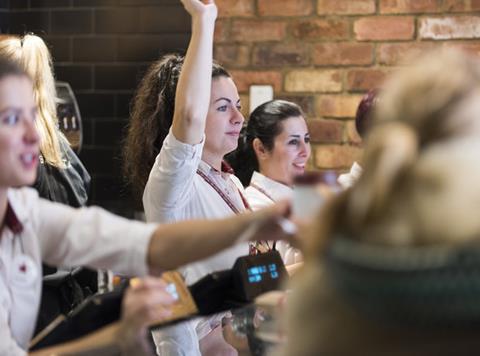 The chairman of JAB Holdings, the acquisition-hungry owner of Pret A Manger and Keurig Dr Pepper, has quit after a five-year $50bn takeover spree led to a split with his two partners over the scale of the investment group's dealmaking (Financial Times £). According to two people with direct knowledge of his decision, Bart Becht, a hard-charging 62-year-old consumer industry executive, stepped down after failing to convince JAB to scale back its takeover ambitions to focus on improving operations at its sprawling portfolio of companies. Becht made his name as chief executive of Reckitt Benckiser, the British consumer goods group, where in 2010 he received more than £90 million in pay, bonuses and share options, a British record. Since joining JAB in 2011, he has helped to transform it through the acquisition of companies such as Pret A Manger, Krispy Kreme Doughnuts and Keurig Dr Pepper (The Times £, Daily Mail).
Some people are stockpiling food, medicine and even pet treats in anticipation of mass shortages after a no-deal Brexit (The Guardian). Guardian readers also told the newspaper they were stockpiling store cupboard items such as tinned food and dried milk. "I'm already stockpiling. I've got a healthy backlog of legumes and dry goods," said Lilidh from Aberdeen.
Hundreds of Britons have spent £300 on "Brexit boxes" to prepare for disruption to food supplies when the UK leaves the EU (Independent). The government has said that there is no need to stockpile but some concerned consumers have stocked up regardless, boosting business for suppliers of emergency food. Leeds-based Emergency Food Storage UK has been selling freeze-dried food for a decade but has seen a jump in demand since launching its Brexit box a month ago.
Gillette is under fire from men's rights activists and rightwing publications for a new advertisement that engages with the #MeToo movement and plays on its 30-year tagline "The Best A Man Can Get", asking instead: "Is this the best a man can get?" The advertisement features news clips of reporting on the #MeToo movement, as well as images showing sexism in films, in boardrooms, and of violence between boys, with a voice over saying: "Bullying, the MeToo movement against sexual harassment, toxic masculinity, is this the best a man can get?" (The Guardian)
There were renewed fears over the strength of the global economy last night after a leading think tank said that growth was slowing in most influential countries and China shocked traders with poor exports (The Times £). Alarm bells have started ringing for the United States, Germany, France, Canada and Britain, according to the Organisation for Economic Co-operation and Development, underscoring recent warnings of a global slowdown from institutions such as the International Monetary Fund.
The high street is poised for another blow following fears for the health of Pizza Express (Daily Mail). Questions are being raised by industry sources about the ability of the restaurant chain to repay its debt. The company, owned by the Chinese private equity firm Hony Capital, is due to repay around £650million over the next three years.
Jamie Oliver has defended his decision to sign a reported £5 million deal with Royal Dutch Shell despite years of campaigning for action on climate change (The Times £).
Julian Hearn is sitting pretty after setting up Huel, his innovative fast-food product that has defied its critics to become a fast-growing business (The Times £). Annual turnover last year was £14.1 million and the projection for 2019 is more than £40 million, which would make the Buckinghamshire-based Huel one of Britain's fastest-growing businesses.
Strong processing profits probably kept cocoa processing at high rates in Europe and North America, according to a Bloomberg survey. Grinding in Europe, the top-consuming region, likely rose 2 percent in the fourth quarter to the highest for that period going back to 2001, the median estimate in a Bloomberg survey of 14 traders, brokers, processors and analysts showed.
Walmart and Amazon are braced for impact of new rules designed to aid smaller retailers (Financial Times £).
"Has social media made consumer campaigns about plastics and veganism more effective?" writes Michael Skapinker in the Financial Times (£). "A reduction in consumption of both plastics and meat are long-term campaigns. They will both require government effort, international action, incentives and the provision of alternatives. Consumer enthusiasm is important but, as past campaigns have shown, they are seldom enough."
Shop Direct, the retailer that owns the Very.co.uk and Littlewoods.com brands, has reported strong Christmas sales driven by a surge in demand for sportswear and toys (Telegraph £).
Falling sales and rising costs have prompted bar group Revolution Bars to warn its profits will decline (Financial Times £). The group, which is trying to revitalise its brand to persuade more people to visit its cocktail bars, said adjusted full-year earnings would be £12m, down from £15m the year before.