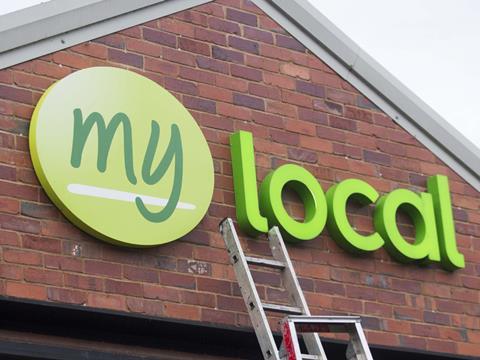 My Local faces an uncertain future after its owners called in emergency help to try to save the business. Around 2,300 jobs at the convenience chain's 140 stores are at risk after KPMG was asked to draw up options which include placing the firm into administration. In recent weeks the firm has been trying to sell 25 stores to cut costs. (The Daily Mail)
The major wider business story in the papers this morning is the collapse of UK shares as polls suggest we may be heading for Brexit. "FTSE 100 loses £100bn in four days as Brexit paralyses markets and pound crumbles," writes The Telegraph, while The Times (£) says: "Brexit fears drive global flight into safe havens".
The Times (£) suggests Ocado "may be fast approaching sell-by date". The paper writes: "Since Amazon unveiled its intentions last week to launch its Fresh delivery service, Ocado shares have been in freefall… What's going on? Some say that the savvy investors behind Ocado are content to see the share price down so that they can buy stock on the cheap, maybe as part of a plan to take the company private."
News that Sainsbury's respected finance chief John Rogers is off to head up Argos once the grocer's £1.4billion takeover is complete set analysts' tails wagging – with rumours spreading he is being groomed to take over from Mike Coupe as CEO. (The Daily Mail)
The fierce price war among supermarkets has continued to act as a drag on inflation, which has barely moved above zero this year. (The Times £)
The papers once again have plenty on the collapse of BHS – this time in eager excitement ahead of Sir Philip Green's appearance at Westminster later today. Three of the papers carry articles looking at the questions Green should answer (The Financial Times £, The Telegraph, The Guardian) as he prepares to "refute claims he blocked BHS rescue to Mike Ashley" (The Telegraph).
Michael Sherwood, the co-head of Goldman Sachs in Europe, has bowed to pressure from MPs (The Financial Times £). Sir Philip Green's Arcadia Group is working on a proposal to try to rescue the BHS pension fund (The Times £). The Daily Mail carries a piece looking at the "rage of the betrayed BHS staff", while Alex Brummer writes: "If Green can keep his cool he will have crucial details about advisers, Chappell and his plans for the pension fund" (The Daily Mail).
Consumer goods companies are pushing into personalised packaging as they seek to emulate Coca-Cola's 'Share A Coke' campaign. (The Financial Times £)