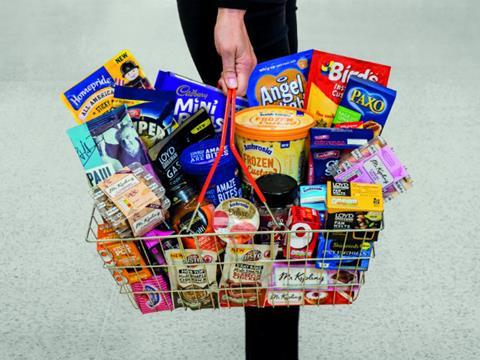 Premier Foods is in focus in this morning's papers after publishing annual results yesterday. The supplier's decision to ditch growth targets and focus more closely on costs as its sales and profits fall is picked up by The Financial Times. The Telegraph also goes for the same angle, with the headline 'Premier Foods abandons growth strategy in favour of cost cutting'. Premier says the food industry has "undergone recent and rapid change" due to steep increases in the cost of ingredients. The Times notes that profits fell by nearly 12% at Premier and that the food maker announced a new strategy as it struggles to digest rising ingredient prices, inflation and a fierce supermarket price war. Premier has been stung by rising costs of commodities such as sugar, chocolate, dairy, wheat and palm oil, The Mail says.
Telegraph retail editor Ashley Armstrong writes that Premier has had to eat its words when it comes to growth. "The 2pc to 4pc sales growth target, swiftly reached by management to justify Premier's independence, always seemed too ambitious to be true and the board has had to eat its words as its sales go into reverse."
Former Morrisons boss Dalton Philips has had to take control of Byron after the upmarket burger chain parted company with its new chief executive after just five months, The Telegraph has reported. Philips joined Byron as non-executive chairman in December as part of a management reshuffle, but is now having to head the company after Andrew Manders stepped down for "personal reasons", the paper writes.
Alistair Osborne tries to get to the bottom of exactly how much Tesco has saved by closing its defined benefit scheme in his Times column. He turns to the just published annual report at the supermarket to get an answer.
Lavazza, Italy's largest coffee group by sales, is eyeing M&A options in the consolidating coffee market, according to The Financial Times. The paper writes that the business can spend up to €2bn on acquisitions to further its global ambitions in an industry dominated by Nestlé and JAB.
The latest inflation figures were picked up by most papers, with The Guardian reporting that the rising cost of electricity contributed to inflation's rise to 2.7% in April, its highest level in three and a half years.
The Labour manifesto also gets coverage, with The Times reporting that business groups rounded on the policies warning a Labour government would stifle innovation, deter business investment, cost jobs and damage growth.
London's blue chip index could smash through the 8,000-point barrier by the autumn, experts said, after it closed at another all-time high last night (The Times).
A comment piece in The Times by business and political commentator Peter Jones says the Scottish food and drink industry faces disaster without a Brexit deal.
McDonald's has apologised for any upset caused by its new TV advert, which has been accused of exploiting childhood bereavement, but refused to stop it from being broadcast (The Guardian).
The Financial Times looks at how the reform of 'beer tie' rules has hit business at Ei Group. The pub owner and operator formerly known as Enterprise Inns said deals it had struck had reduced net income from those pubs by almost a fifth. The paper points out, however, that the company has only struck four such deals, compared with its estate of 4,283 tenanted pubs.