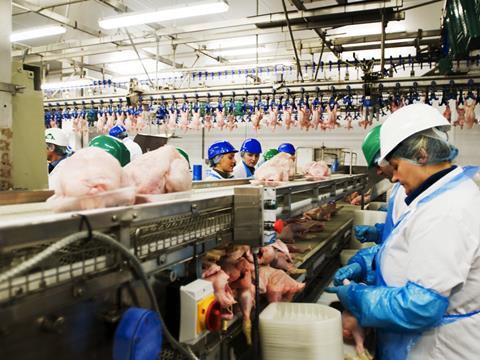 The scandal at the 2 Sisters chicken factory should act as a "wake-up call" to the UK food regulator which has presided over a system in which it is simple to "hide infractions," a report by a committee of MPs has found (The Guardian). MPs have demanded that loopholes in food quality regulations be closed following allegations that the largest supplier of chicken to UK supermarkets tampered with safety records to persuade consumers to buy meat past its sell-by date (The Financial Times £).
Britain's biggest poultry supplier already had a "far from pristine" track record on food standards before the recent scandal over hygiene violations, a report on the affair has concluded. According to the Commons environment, food and rural affairs committee, the problems identified at 2 Sisters Food Group plant at West Bromwich were "not a one-off" and called into question its corporate governance structure. (The Times £)
Asda has toasted its second consecutive quarter of growth as a sign that the supermarket had now "stabilised" following plunging sales a year earlier (The Telegraph).
Walmart's fightback against Aldi and Lidl in the US showed signs of success in the third quarter as the company posted its strongest quarterly sales growth since 2009 (The Times £). Walmart on Thursday posted its strongest quarterly US sales in more than eight years as the company's digital investments continue to pay off and as store traffic improved (The Financial Times £).
After months of campaigning that resembled a heated political race, the proxy battle between Procter & Gamble and activist investor Nelson Peltz is set to drag on due to a stunning reversal of voting results. (The Financial Times £)
The burgeoning threat of online food delivery companies appears to have helped convince competition authorities to wave through Just Eat's £200m acquisition of rival Hungryhouse. (The Telegraph)
British shoppers are expected to spend £10.1bn in the week of Black Friday, nearly 4% higher than last year as more retailers take part in the US-inspired promotional day. (The Guardian)
Rocketing food inflation and uncertainty about the outlook for the UK economy have sent retail sales tumbling to their first year-on-year fall since 2013. Food prices, which were 3.5% higher than a year earlier, helped push the volume of goods bought in shops and online down by 0.3% from October 2016. (The Guardian)
Private equity group Bridgepoint has agreed a deal to take control of the Burger King brand in the UK, pledging to ramp up its expansion and "reinvigorate" its operations in the country. (The Financial Times £)
Camelot, the operator of the UK's National Lottery, is plotting a route back to growth, expecting to reveal crucial plans in the coming days that are designed to reverse a sharp fall in ticket sales. (The Financial Times £)
The American hedge funds which own the Co-operative Bank have kicked off a hunt for a new chairman as they attempt to rebuild the business in the wake of a £700m rescue deal. (Sky News)
Most government support for research and development subsidises investment that would have been made anyway according to a think tank. The Institute for Public Policy Research (IPPR) estimates that up to 80% of tax credits for research and development are a "deadweight". (The BBC)