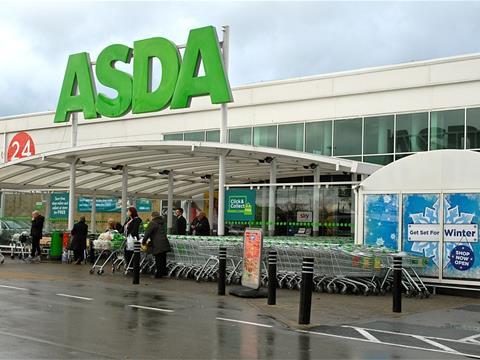 The travails of the UK grocery market – and in particular Asda – receive plenty of scrutiny this morning. Asda's continuing woes, as it reported a 4.5% decline in like-for-like sales in Q3, is the focus of most stories.
The Daily Mail headline reads: "Dismal sales are a blow for Asda boss Andy Clarke with questions raised over his five-year turnaround plan." The paper added that Clarke had been left "red-faced" last night after the fall in sales was close to the worst-ever performance in the preceding quarter and came despite massive investment in price. The Telegraph noted that Asda was continuing to feel the heat from its supermarket rivals after posting another significant slump in quarterly sales. The third quarter results made the grocer the weakest performer of the big four, it added.
The nosedive in sales at Asda laid bare the extent of the crisis in Britain's supermarket sector, The Times writes. However, the paper took up Clarke's point that Asda had continued to trade strongly while "protecting its profits", unlike rivals such as Sainsbury's and Tesco. Clarke said: "The market is very tough, but we are not going to be distracted by short-term gimmicks. We have the strongest financial position in the market and we still have the scale to execute our long-term strategy." The Guardian focuses on Clarke's prediction of further challenges ahead as he said that retailers faced a tough Christmas.
Parent group Walmart reported a 8.8% fall in operating profit to $5.7bn in the third quarter as overall revenues dropped 1.3% to $117.4bn (The Financial Times). The US retail giant expects US sales growth to slow to 1% in the fourth quarter.
Yesterday's Kantar Worldpanel update also gets a good showing today. The latest 12-week figures showed Aldi now has a bigger market share than Waitrose, with 10p of every £1 spent at supermarkets going to the group and its fellow German discounter Lidl (The Daily Mail). The combined 10% of the market now held by Aldi and Lidl is up from 5% just five years ago (The Independent). This rise has contributed to squeezed profits at Tesco, Asda, Morrisons and Sainsbury's and led to the latest supermarket price war. The Guardian noted that the so-called fightback by the big four has had no impact on the discounters.
Another discounter also made the papers this morning after reporting sales growth of 26% in its first half. B&M also increased pre-tax profits by the same amount to £66.4m as it opened 47 stores in 26 weeks – a record rate of openings for the group chaired by former Tesco CEO Sir Terry Leahy. However, The Times writes that B&M blamed the aggressive expansion drive for "operational challenges" as it rushed to meet demand from consumers "hooked on discounts and big-brand bargains". The discount chain was struggling to get products on to shelves as the crucial Christmas trading period approached as its distribution centres struggled to cope under the weight of the inflated store network (The Guardian). The FT's Lex column noted that the stock fell more than 3% as investors fretted over the operational challenges. But it highlighted that there was room for cheer for B&M: "While overexpansion is possible, B&M is not there yet. Vast swaths of southern England have yet to see the stores' flashy blue and orange frontage. There are plenty of goodies left here."