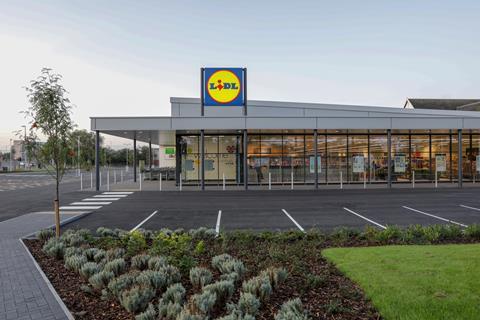 German discounter Lidl has fired the first shot in the battle over who should bear the financial brunt of a no-deal Brexit, indicating to British suppliers that it expects them to pay EU import tariffs for goods delivered to its Irish business (The Times £). Lidl, the German discounter, has told British suppliers that it wants them to pay for EU import tariffs to keep shelves stocked in its Irish stores, in the event of a no-deal Brexit (The Telegraph). Lidl's Irish business has reminded British suppliers they are expected to pay any EU import tariffs imposed on goods crossing borders after Brexit (The BBC).
Sainsbury's is kicking-off the search for a new chief executive to replace Mike Coupe as it looks to move on from its failed attempt to merge with Asda, with three internal candidates tipped for the top job. (The Telegraph)
However, Sainsbury's has played down talk that it has launched a formal hunt for a new chief executive to replace Coupe, insisting he has the full support of company's shareholders and the board. (The Times £, Reuters)
The former boss of Majestic Wine is set to return to the retailer he left two years ago as it enters new ownership. John Colley has resigned from his role as chief trading officer at Kingfisher, the DIY conglomerate, after just 20 months to return to Majestic, whose stores were bought for £95m this month by the American investment firm Fortress. (The Times £)
Investor support for tobacco business Imperial Brands is crumbling with big shareholders pushing for parts of the company to be sold off and changes to the leadership team after the share price halved in three years. (The Financial Times £)
Labour will allow councils to seize abandoned shops to give them a new lease of life as cooperatives or community centres, a policy designed to revive struggling high streets (The Guardian). Labour leader Jeremy Corbyn has announced proposals to help Britain's "struggling" high streets. He said he wanted to give councils the power to reopen shops in premises left vacant for more than a year (The BBC).
Britain's pub companies are calling for a "Brexit dividend" cut to beer duty ahead of an autumn budget. Marston's and Greene King have thrown their weight behind the Long Live the Local campaign, which is calling for taxes to be slashed. (The Times £)
Whittard of Chelsea has handed over the reins to its finance chief Nathan Smith after its boss of five years Mark Duhill resigned last month. (The Telegraph)
Airport and railway station food retailer SSP Group has backed its chairman after a shareholder rebellion this year. More than a third of shareholders who voted at SSP's annual meeting in February opposed the re-election of Vagn Sorensen, the chairman, over concerns that he was "overboarded" — the term for holding too many directorships — and about the length of his tenure, which goes beyond corporate governance best practice. (The Times £)
A sharp drop in the value of its assets and a stock market fine for the "unacceptable conduct" of its former directors have helped to push The Real Good Food Company to a heavier annual loss. (The Times £)
Plant-based fish is the new plant-based meat. The wave of money behind companies such as Beyond Meat and Impossible Foods encourages fish start-ups. (The Financial Times £)
White Claw has become the obsession of the summer. The alcoholic sparkling water is selling out at bars and grocery stores across the US. Colorful cans are popping up on beaches and picnics and barbecues. (The Guardian)
The days of lime and soda are over. "Sugary, carbonated or fruit-based juice drinks just won't do" for those seeking a booze-free alternative. At least, that is the view of Seedlip, which claims to be making the world's first distilled non-alcoholic spirits. (The BBC)
Restaurant diners are turning their noses up at Indian, Italian and Chinese establishments in favour of Middle Eastern, Caribbean and specialist vegetarian rivals, figures have revealed. The sector's woes continue, with restaurant numbers falling by 3.4% in the year to the end of June, with a net 18 closures each week. (The Guardian)
Hipster ingredients and cushioned seats are part of a £10m plan to reverse the fortunes of Carluccio's, which last year succumbed to market pressures and joined the string of casual dining chains closing sites and cutting rents as part of a bruising restructuring. (The Times £)