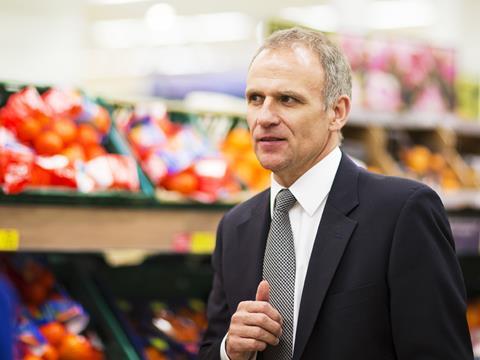 Sir Dave Lewis, the former Tesco chief, will this week be appointed to lead the £40bn separation of GlaxoSmithKline's consumer healthcare arm (Sky News) Former Tesco boss Sir Dave Lewis is set to become chair of GlaxoSmithKline's new consumer health division, which is about to be spun-off from its parent company (The Financial Times £). The former chief executive of Tesco has been appointed as the chairman of the consumer healthcare business of GlaxoSmithKline (The Times £).
Marks & Spencer has drafted in headhunters to shape a three-way internal contest to become its next chief executive - a process that could see the appointment of the first female boss in the chain's 137-year history (Sky News). The country's biggest high street retailer has hired headhunter MWM Consulting to advise on a plan that will consider three internal candidates including Katie Bickerstaffe, who would be the company's first female boss if appointed to the role (The Daily Mail).
Farmdrop, the UK online grocery start-up backed by the Duke of Westminster as well as Zoopla founder Alex Chesterman, has collapsed, leaving customers scrambling to locate turkeys for Christmas (The Financial Times £). The online ethical grocer Farmdrop has gone out of business a week before Christmas, leaving hundreds of customers who had ordered turkeys, geese and other festive food scrambling to find alternatives (The Guardian). An upmarket online fresh food grocer that was started by a former Morgan Stanley stockbroker has closed, leaving its customers short of turkey and other Christmas products (The Times £). Some suppliers also said they are owed money by Farmdrop but have been unable to get in contact with the firm (The BBC).
Supermarkets have begun stockpiling groceries in anticipation of a fresh lockdown as the highly contagious Omicron variant of Covid-19 spreads rapidly across the country. (The Times £)
Food industry executives have warned that the alarming rise in the number of coronavirus cases could 'very quickly' lead to staff shortages in shops and among food suppliers and delivery drivers. (The Daily Mail)

A burst of early Christmas shopping boosted UK retailers in November, as consumers heeded warnings to buy gifts early to avoid being caught by stock shortages due to supply chain problems (The Financial Times £). Black Friday and early Christmas shopping drove an unexpected rise in retail sales last month, official figures show (The Times £). A rush to beat Christmas shortages gave retailers a boost in November, according to official figures that showed sales jumped 1.4% on the previous month (The Guardian).
Visits to high streets and shopping centres have fallen ahead of what is traditionally the biggest shopping weekend of the calendar, with a 20% fall in central London footfall on Thursday prompting forecasts of a "muted" end to a turbulent year (The Guardian). UK shoppers chose to avoid High Streets and city centres on the crucial weekend just before Christmas, amid fears over the Omicron Covid-19 variant (The BBC).
Leon, the self-styled "naturally fast food" chain, is set to accelerate expansion after its estimated £100 million takeover by the brothers who own Asda. (The Times £)
Rishi Sunak has just 24 hours to commit to a package of support for businesses or risk the permanent closure of 10,000 pubs and restaurants, industry chiefs have warned (The Telegraph). Businesses frustrated at lack of government support amid Omicron wave – public health warnings have caused consumer confidence to evaporate, leaving businesses free to open but with no customers, and no support either because there are no formal restrictions (Sky News). Businesses have reacted with dismay at possible tougher Covid measures before Christmas after the health secretary said they could not be ruled out (The BBC).

Dire warnings of empty shelves have failed to materialise as many companies successfully navigate logistical challenges. Although stores have remained open — unlike in 2020 when non-essential retail was shut for most of November — retailers have grappled with Brexit bureaucracy, global shipping disruption and shortages of warehouse workers and truck drivers. (The Financial Times £)
The Times interviews SAinsbury's boss Simon Roberts, finding new products are a key part of Roberts's strategy to put food at the centre of his vision for Sainsbury's. Innovation and value are his mantra — Roberts's focus on food appears to be winning over customers. Last month the retailer reported that it had grown market share, stealing customers from all its rivals. (The Times £)
Food charities and restaurants are warning of a mountain of wasted festive meals, as hospitality businesses struggle with last-minute cancelled bookings amid soaring Covid-19 cases (The Guardian). As restaurants are forced to close, what happens to all the food, asks The Times. Some ends up being re-sold to the public via home delivery services such as Deliveroo as restaurants switch back to lockdown mode. But in other cases, chefs and managers are finding new ways to make sure it does not go to waste (The Times £).
The worst could be over for The Hut Group, which has been in a downward spiral since a damning report caused its shares to collapse. (The Daily Mail)
Pret A Manger has received thousands of complaints over its drinks subscription service following frustration that not all promised beverages are available. (The BBC)
Millions of daffodil stems will be left to rot in the fields this spring, as growers face a critical labour shortage that they fear could spell the end of the entire industry. (The Guardian)
The Guardian looks at "festive shrinkflation" and the "tricks chocolate makers use to make us pay more". At this time of year, manufacturers have a few new tactics to get us to buy less for more money. (The Guardian)