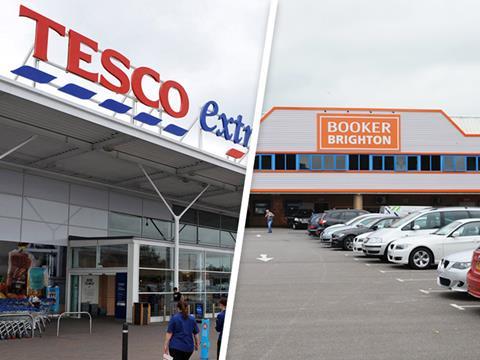 Competition investigators have been attacked for failing to adequately tackle Tesco's proposed takeover of wholesale giant Booker.
Steve Parfett, chairman of the £300million Parfetts wholesale business, said the deal should have set alarm bells ringing at the Competition & Markets Authority and reignited concerns about Tesco's vast power. He said the takeover would not only be bad news for wholesalers, but could also be a massive problem for suppliers including household names such as Heinz. (The Daily Mail)
China's richest chicken farmer has joined a brood of bidders vying for a £1bn takeover of Northern Irish poultry giant Moy Park. Liu Yonghao, chairman of China's agrichemical business New Hope, started his company in 1982 by investing in breeding quails and chickens to sell on to other farmers. JBS bought Moy Park just two years ago for £1.2bn but is now rapidly trying to offload assets to cut its debt pile. (The Telegraph)
Petrol prices on the UK's busiest roads now vary by as much as 24p a litre, the AA has found, fuelling calls for more transparency over charges at the pump (The Times £).
Heineken's takeover of Punch Taverns is to go ahead after the competition watchdog passed one of the biggest pub deals in recent years on Friday. Heineken can now push ahead with its joint £1.8 billion takeover of Punch Taverns in partnership with Patron Capital, which is taking about 1,375 of Punch's 3,275 pubs. (The Times £)
The FT's Lex column writes: "Pub owners still battle health fads and craft beer purveyors. But food, WiFi and non-alcoholic beverages draw the crowds back in. Heineken's incursion into the solid, comfortable ugliness of British pubs makes sense." (The Financial Times £)
Wasabi has blamed soaring salmon prices for its pre-tax profits tumbling from £2m to £770k last year. Wholesale salmon prices have soared by as much as 50% in the past year after global supplies were hit by an infestation of sea lice. (The Telegraph)
Demand for sweet pies, tarts and flans grew by almost 10% last year as shoppers filled their baskets with comfort foods. Sales of hot desserts were up £2.6m, according to analysts at Kantar Worldpanel, which found more people buying hot puddings, and doing so more frequently. (The Guardian)
The Government is poised to announce a swathe of job cuts at the department responsible for overseeing business rates, despite rising pressure on the organisation to help firms struggling with their bills. (The Daily Mail)
Aldi, the German discount food retailer, announced a US partnership with Instacart, the Silicon Valley "unicorn" that has applied the model of Uber and Airbnb to food delivery. It deploys nominally independent individuals and their cars to carry food from stores to homes. "Is Aldi's resistance futile?," asks the FT. "The history of retail is a story of new models sucking the growth and profit from the preceding ones, with the company leading each wave establishing a dominant position." (The Financial Times £)
Atari accused Swiss food group Nestlé of copyright infringement for using its retro video game Breakout in a KitKat advert (The Financial Times £). According to a complaint filed in a federal court in San Francisco, Atari claims that Nestlé exploited the Breakout name, look and feel through social media (The Times £). The advert showed a line of people sitting on a sofa in the middle of a train station, playing a game which Atari says bears a striking similarity to its own 1970s video game Breakout (Sky News)