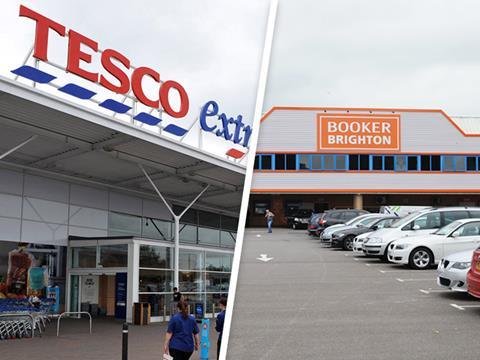 Investors in Booker Group have been told by a second shareholder advisory group to vote against a planned £3.7bn takeover by Tesco, writes The Times. Glass Lewis said that the premium offered by Tesco "clearly lags regional trends", adding: "We see little cause for Booker investors to support what appears to be a less-than-compelling control transaction." The report from comes just days after Institutional Shareholder Services, another advisory group, also recommended that Booker shareholders should block the deal. (The Times £)
Almost £23billion was wiped off the world's biggest retailer last night as it fought a losing battle with bitter rival Amazon (The Daily Mail). Walmart's challenge to the might of Amazon in ecommerce sputtered over the holiday period, sending its shares tumbling. Arkansas-based Walmart, the world's biggest retailer by sales, said it suffered a sharp slowdown in what had been a fast-growing online business, as logistical problems compounded the competitive pressure (The Financial Times £). Disappointing profits at Walmart and a slowdown in the group's online growth have fuelled fears about the health of traditional retailers and their ability to take on Amazon (The Times £). Walmart shares suffered their biggest percentage fall for more than three decades on Tuesday after reporting disappointing online sales figures for the Christmas period (The BBC)
Asda toasted a fourth consecutive quarter of sales growth today but revealed its profits had slipped in the run up to Christmas as it cut prices amid fierce competition in the grocery market (The Telegraph). Asda saw sales growth slowed down sharply in the Christmas quarter despite higher inflation and weak comparatives for last year (The Daily Mail). Britain's third-largest supermarket has said sales rose in the key Christmas quarter partly thanks to the popularity of vegan-friendly mince pies (Sky News).
Delivery problems will mean some KFC outlets will remain closed for the rest of the week, while others will have a reduced menu or shortened hours (The BBC). KFC still had hundreds of restaurants closed on Tuesday, warning it expected disruption to last at least a few more days after "teething problems" with a new delivery contractor meant it ran out of chicken (Sky News).
KFC was warned it would face delivery problems months ago, it has been claimed, as the company tries to grapple with a worsening chicken supply crisis that has forced almost half of its outlets to remain closed. (The Guardian)
KFC's farcical shortage of chickens this week is not just an unbelievable failure in its supply chain - it also highlights an increasingly serious issue within the food industry, writes The Telegraph (£). Industry insiders believe cost was a factor in KFC switching suppliers. But this is not just a simple case of a supplier over-promising and under-delivering.
Michael Gove has said the case for a Seasonal Agriculture Workers Scheme after Brexit is "compelling" as he accepted the farming sector will need "access to foreign workers" after Brexit. (The Financial Times £)
Grocery company Albertsons and pharmacy chain Rite Aid have announced a cash and stock tie-up, creating one of the largest food, health and wellness groups in the US. (The Financial Times £)