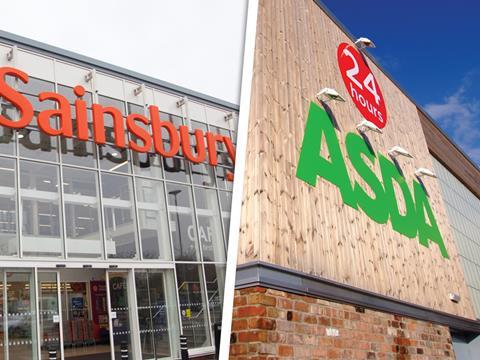 Tesco and Morrisons are positioned to block the £10bn merger of Sainsbury's and Asda by refusing to buy scores of stores due to be spun off on the orders of monopolies watchdogs (Telegraph £). The deal to combine the UK's second and third-biggest grocers is under scrutiny from the Competition and Markets Authority (CMA), which is ­expected to demand the sale of about 100 larger supermarkets. The intervention may put the fate of the merger in the hands of Tesco and Morrisons, as regulators are likely to insist the buyer of the stores must be a credible competitor, according to an insider.
The competition watchdog has indicated that it is likely to extend its investigation into the proposed merger between J Sainsbury and Asda (The Times £). A ruling published by the Competition Appeal Tribunal showed that the Competition and Markets Authority expects to publish its final report and decision on the £12bn merger by April 30. Its initial deadline had been March 5, but the regulator has the ability to extend this by up to eight weeks.
The troubled cafe chain Patisserie Valerie could collapse on Monday if last-ditch talks with its banks fail (The Guardian). Luke Johnson, Patisserie Valerie's leading shareholder, has been seeking to extend a standstill agreement on its bank facilities – protecting the chain from action to recover debts – which officially expired at midnight on Friday. If talks fail, HSBC and Barclays could demand repayment of £9.7m of overdraft debt (The Times £, Daily Mail).
Patisserie Valerie shareholders face a bitter parting blow after it emerged a multimillion-pound "rescue" loan from boss Luke Johnson will outrank them if the coffee and cake chain collapses into administration in the coming days, as is widely expected (Telegraph £). The Financial Conduct Authority is investigating HSBC and Barclays over potential governance failings in their monitoring of current accounts and overdraft facilities for Patisserie Holdings (The Times £).
Jonathan Eley of the Financial Times (£) has written an analysis piece on 'How Patisserie Valerie's recipe turned sour'.
Three-quarters of UK warehouse owners say their space is full to capacity and storage costs have soared by up to 25% in the past three months after a surge in Brexit-related inquiries (The Guardian). The UK Warehousing Association (UKWA), whose 750 members have more than 9.3m sq metres (100m sq ft) of space nationwide, said there was a shortage of space close to major cities for stockpiling goods in case of holdups at ports after a no-deal exit from the EU.
A further 175,000 jobs will be shed from struggling UK high streets this year and the value of retail property will slump as the boom in online shopping and rise of giants such as Amazon continue to take their toll, research warns (The Guardian). More than 23,000 shops are forecast to close in 2019, according to the findings published on Monday in an annual report from the real estate adviser Altus Group.
Experts have blasted Marks & Spencer for 'rewarding failure' as successive bosses pocketed nearly £28m in pay amid a long-term profits slump and a £7bn drop in the retailer's value (Daily Mail). M&S's profits have slumped by 93% to just £66.8m during a decade of decline as it struggles to stay competitive.
A three-way bid battle for the healthy-snack business Graze is set for a finale next month after the deadline for offers was extended (The Times £). Consumer goods giants Unilever, Kellogg's and PepsiCo have been pursuing the company since it was put up for sale last year.
Pernod Ricard, the French spirits maker under pressure from an activist investor, is discussing how to beef up its governance by making changes to its board of directors, including the creation of a lead independent director role (Financial Times £).
UK retail sales fell in December as British consumers pulled back on shopping after scooping up Black Friday promotions and remained cautious ahead of the country's divorce with the EU, according to new data released on Friday (Financial Times £). The volume of sales was down 0.9% in December from the previous month, the Office for National Statistics said. The official figures capped a torrid year for the high street after reports of poor sales figures from major retailers (Telegraph £).
Fund managers are warning that Brexit could lead to more activist investors circling the UK for opportunities to snap up companies on the cheap (The Times £). The share prices of many large British companies have fallen because of fears over the global economy and Brexit, making them vulnerable to international investors seeking opportunistic acquisitions, according to several senior fund managers.
Britain's biggest supplier of supermarket ready meals has shrugged off rising food and labour costs to report robust trading (The Times £). Bakkavor Group, which completed an on-off flotation 14 months ago, reported a 2.2% rise in group revenues, up 3.2% on a like-for-like basis, on the back of "good progress across the group".
The increasing cost of ingredients and heavy investment in new products pushed posh-pie maker Higgidy to a loss last year despite record sales (The Times £). Sales ticked up 6% to £25.3m, but pre-tax profits of £817,000 in 2017 swung to a £180,000 loss, newly filed accounts reveal. Managing director Mark Campbell said the cost of launching and developing Higgidy's first vegan pies and pastry-free frittatas, coupled with the rising cost of raw ingredients, had been responsible.
"Can Britain's butcher survive the vegan trend?" asks James Tapper in The Guardian. "Beleaguered by the rise of meat-free lifestyles and the decline of the high street, some in the trade are fighting back."
The Leon restaurant chain has warned severe allergy sufferers not to eat there as managers fear a repeat of the tragedy in which a teenage girl died after eating a Pret a Manger sandwich (The Times £).
Heather Mills is to open Britain's biggest vegan food factory turning protein from peas, seaweed and other plants into substitutes for meat, fish and dairy products (The Times £).
Uber Eats is flouting childhood anti-obesity rules by delivering McDonald's takeaways to schools, it can be revealed. A Sunday Times investigation found that pupils can trade canteen meals for Big Macs and milkshakes by ordering fast food directly to the school gates.
'Can tech save bricks and mortar retail?' asks Alistair Gray in the Financial Times (£)."Smart mirrors that display virtual make-up on customers, baskets that automatically ring up their contents, tablets for kids to design and customise their toys on the spot. Technology ravaged malls across America by allowing customers to shop online, but retailers now hope it is also the answer to luring them back in store."
Vulture funds are believed to be stalking Pizza Express, buying up the company's debt on the cheap in an attempt to seize control (The Times £).
Traditionally primary school children have learnt to count with apples and pears. Now they will be asked to calculate using sugar cubes as part of the government's anti-obesity drive (The Times £).
Environmental campaigners have accused Poundland of creating unnecessary plastic waste by selling a Valentine's Day gift consisting of a heart-shaped package with nothing in it (Sky News).