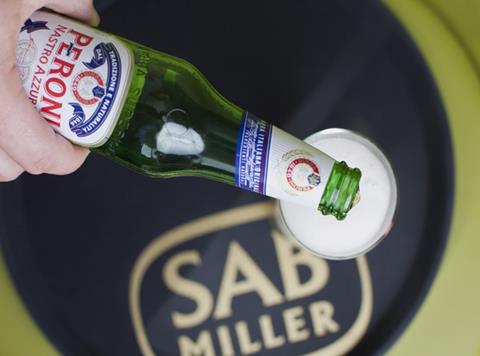 The Times writes this morning that SABMiller has beefed up its advisory team with the appointment of Goldman Sachs as it musters its defences against an impending £70 billion-plus bid from Anheuser-Busch InBev. "The appointment of the investment banking heavyweight comes amid expectations that AB InBev is preparing to put a bid of at least £40 a share on the table in the next few days", it says. (The Times £).
The FT looks at the state of Tesco, quoting a senior retailers as saying: "The leadership has changed, but the problems have not." Under the headline "Tesco puts a brave new face on old problems", the FT notes shares have fallen 20% over the past six weeks, on concerns that its efforts to turn round its UK business are not yet working. HSBC's Dave Dave McCarthy is quoted as saying: "Tesco was mismanaged for six or seven years, and it will take almost as long to put it right." (The Financial Times £)
All the write-ups of yesterday's Finbsbury Food Group results, which saw a big jump in revenues and profits, centre on Disney and Finsbury's licensed cakes for films like Minions and Frozen (The Daily Mail, The Telegraph, The Times £). The Times writes: "If it's good enough for the finest creative minds in California, the British bakery group has decided, then it's good enough for us" after it announced the opening of a cake innovation centre.
Reckitt Benckiser, the maker of Durex condoms, Disprin aspirin and Dettol antiseptic, is calling on India to axe price controls on the products — curbs that it said are both undermining its profits and hindering wider access to healthcare products. (The Financial Times £)
"Will Lidl's living wage smash the UK's low-pay cartel?" asks a column in The Guardian. Corporations reward a tiny clique with millions, then deny decent salaries to ordinary workers, it says, but the British model of doing business is now threatened by the radical act of a cut-price retailer. (The Guardian)
In wider economic news, The Governor of the Bank of England has warned of the threat posed by China to the global economy – arguing its rapid growth since the financial crisis has been fuelled by debt. Speaking last night, Mark Carney recalled the recent financial crisis following the "massive increases in household debt". He said this was "last seen in the Great Depression" that followed the 1929 Wall Street Crash. Describing "this time it's different" as "the four most expensive words in the English language", Carney then referred to the growing problems in China which wiped billions off stock markets across the world. (The Daily Mail)