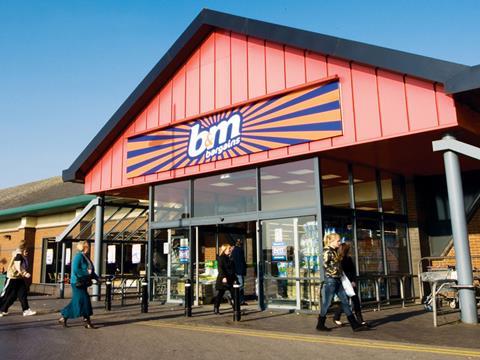 The chief executive of value retailer B&M has played down speculation that the company might attempt a reverse takeover of Asda in the wake of the UK regulator's decision to block the grocer's takeover by larger rival Sainsbury, saying his company already has plenty of growth opportunities (The Financial Times £). Concern about B&M European Value Retail's German business and a weak period for homeware sales took the shine off the bargain retailer's improved profit and revenue growth (The Times £). Retailer B&M plans to open 50 new stores across Britain as it hones in on people's desire for value shops and bucks the trend of the failing High Street (The Daily Mail). Discount goods retailer B&M says it is planning to open 50 new stores this year as its emphasis on value attracts wary shoppers (Sky News).
Sainsbury's will be banned from revisiting its botched merger with Asda for at least a decade, in a fresh blow for embattled boss Mike Coupe. In a draft order, the Competition and Markets Authority proposed that the two supermarkets should be prevented from attempting to join forces for ten years after it blocked the tie-up last month. (The Daily Mail)
Rallye, the parent company of French retailer Casino, has entered into the protection of the French courts in order to freeze its debts and avoid bankruptcy for up to 18 months, the company confirmed on Thursday evening (The Financial Times £).
The FT writes: "Creditors and shareholders are now braced for a painful restructuring. They should insist on this result: a transparent structure in which the retail business's cash is no longer drained to support the rest of the group. If the shares become less of a gamble, it would be a fitting outcome. Casinos were not always synonymous with games of chance." (The Financial Times £)
Times may be challenging for UK pub owners, but the growing appetite for craft beer and gin are keeping sales buoyant. Pub operator Young and Co on Thursday reported that sales in both categories grew strongly in 2018, with its craft keg ale sales up 23% and gin sales jumping 35% (The Financial Times £). Profits at the owner of the All Bar One, Harvester and Toby Carvery pub brands have surged after reaping the rewards of a transformation programme (The Telegraph). Pub group Young's sees healthy climb in profit as cocktail and gin sales rocket while rival Mitchells & Butlers is also on the up (The Daily Mail).
Fifteen Cornwall in Watergate Bay, one of the last outposts of Jamie Oliver's restaurant empire, is still open for business. Owned and run by the Cornwall Food Foundation charity (CFF), Fifteen Cornwall trains six to 10 young unemployed people a year in its kitchens while serving up largely locally sourced seasonal food. (The Guardian)
Investors in Marks & Spencer have raised concerns about the £30 million in fees and expenses the retailer is spending on its cash call to finance its food delivery venture with Ocado. (The Times £)
DoorDash, the food delivery service that raised $400m in February, just closed another $600m round, almost doubling its valuation to more than $12bn in the process. (The Financial Times £)
Diageo's chief executive has said he is watching North America's cannabis craze but will avoid rushing in to the market as the FTSE 100 drinks company could push sales and profits higher without turning away from alcohol. (The Financial Times £)
Oil prices have slumped 5% in their biggest drop for six months – giving drivers some much-needed cheer. (The Daily Mail)
A disease ravaging hog farms 11,000km away in China is affecting US restaurant chains and meat producers, leaving customers forking over higher prices for their pork. (The Financial Times £)
Shares in China's Luckin Coffee have fallen 7% since their initial offering last week, as investors worried about the company's cash-burning expansion model and whether it can retain consumers without subsidies. (The Financial Times £)
The FT looks the struggling restaurant empires of celebrity chefs, writing: "Mr Oliver and Mr [Gordon] Ramsay are great cooks and charismatic performers. But tedious attention to detail is needed to stay in industries where barriers to entry are low. There is more to this business malarkey than bish, bash, bosh, as Mr Oliver might put it." (The Financial Times £)