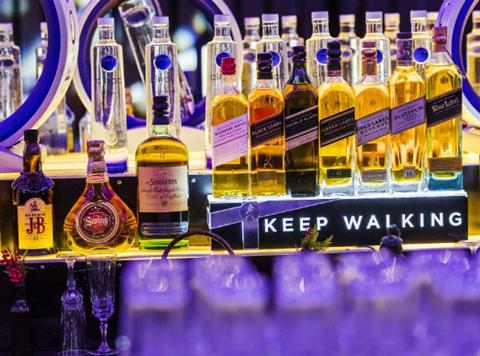 Diageo has kicked off an auction of US-focused spirits brands including Goldschlager, a cinnamon schnapps it has owned for more than 20 years.
The group, which is pursuing a strategy to focus on premium labels, began holding talks with potential buyers of the portfolio in recent weeks for a sale worth around $500m-$1bn. The brands earmarked for disposal include Myer's Rum, which launched in the US in 1934; Popov, a vodka label; and Romana, a Sambuca brand. (Sky News)
Sainsbury's could face legal action from the union Unite after the supermarket said it was pressing ahead with a plan to cut paid breaks, annual bonuses and premium pay for Sundays, leaving thousands of workers out of pocket (The Guardian). Sainsbury is pushing ahead with a new pay deal for thousands of store employees amid a political outcry over its proposals (The Times £). Sainsbury's has stumped up an extra £10m for staff wages after coming under fire from MPs and unions over its controversial pay shake-up (The Telegraph).
Tate & Lyle's new chief executive promised to "inject more pace" into the ingredients maker and deliver $100m of savings as the producer of Splenda sweeteners reported a 23 per cent rise in pre-tax profits (The Financial Times £). The former Pepsi executive intends to accelerate performance by focusing on supplying its key categories of drinks, dairy and soups, as well as sauces and dressings, launching acquisitions and partnerships, and cutting costs, largely in its supply chain, to generate the savings over the next four years (The Times £). Tate & Lyle's boss believes a levy on high sugar fizzy drinks can "only be a good thing", as more companies seek help in avoiding the tax (The Telegraph).
Retail sales had their biggest monthly rise in a year and a half as the high street came back to life after the snow-struck start to the year (The Times £). Britain's economy could be back on the front foot as retail sales recovered sharply in April, bouncing back from a fall in March when snowy weather hit sales (The Telegraph). Retailers enjoyed the biggest jump in sales in 18 months during April as shoppers returned to the high street (The Guardian). UK retail sales were up in April as warmer weather brought shoppers back to the high street, but there was little change in the underlying picture of cautious consumer spending (The Financial Times £).
Graphic health warnings like those on cigarette packets, showing rows of rotten teeth on cans of cola and other sugary drinks, could deter some young adults from buying them, a study has shown. (The Guardian)
Packaging giant Tetra Pak is planning to lobby politicians and regulators about the benefits of plastic straws despite pledging last month to launch a paper straw for its popular juice cartons by the end of this year. (The Financial Times £)
In wider retail the cut-price sale of Homebase gets plenty of coverage. "Wesfarmers locks in $1bn of losses as it cuts ties with Homebase" writes The Financial Times (£), "Bunnings pulls out of Britain after $1.4bn disaster" writes The Guardian, "Homebase owner sells up for £1 after disastrous rebrand attempt" says The Telegraph, while The BBC and Sky News both focus on the £1 selling price.