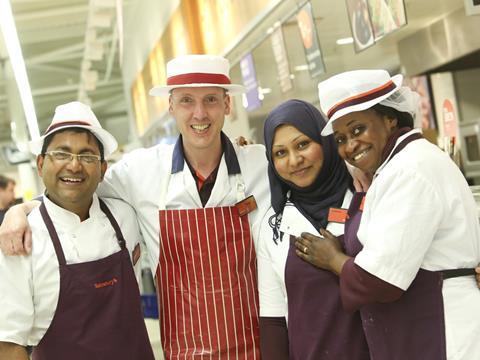 The main retail story in the papers this morning is Sainsbury's announcement it is to pay the "living wage" to its employees (see The Grocer's report here)
The new rate of £7.36 an hour applies to 85% of its 161,000 staff. It is 3p lower than Tesco's rate, but Sainsbury's said it offer paid breaks which effectively means it is paying a higher overall rate.
The Times (£) said the move "puts it ahead of Tesco in the pay league table" while The Telegraph said the supermarket had "trumped the Government's living wage" as it is higher than £7.20 "national living wage" announced in the budget. The Daily Mail hails the move as the "biggest pay boost in over a decade" for the supermarket's staff.
The Guardian quotes Gillian Owen of Citizens UK, one of the groups that has been putting pressure on major retailers to pay the independently valued living wage of £7.85 across the UK and £9.15 in London. She said: "It's a brilliant step. We welcome it and encourage Sainsbury's to continue to look at how it could implement a living wage as and when possible in its business."
Elsewhere, Amazon has reportedly started experimenting with delivery of hot meals, in the latest addition to its Prime Now delivery service. The company has been testing the service by allowing its own employees to order meals from restaurants in Seattle. (The Telegraph)
Retail sales picked up pace in August, thanks to a supermarket bounceback and strong demand for summer clothing. The CBI's latest retail survey revealed a more upbeat picture on the high street than expected after a slowdown in July, with a balance of plus 24% of retailers reporting sales increases in the year to August. Grocery sales rose after two months of stagnation, and clothes retailers also performed robustly. (The Guardian)
As reported by The Grocer yesterday, Morrisons has been ordered by the advertising watchdog to clarify the way it compares prices with other supermarkets under its Match & More loyalty scheme following a complaint from rival Aldi. After a 10-month investigation, ASA told Morrisons it must clearly tell customers where they could get details on how points relating to the scheme had been awarded for a specific shop. (The Guardian)
India's new Food Safety and Standards Authority has left foreign food groups wary, Nestlé's was forced to recall its Maggi noodles and Unilever and Japan's Nissin Foods recalled their Knorr Chinese noodles and Top Ramen. (The Financial Times £)