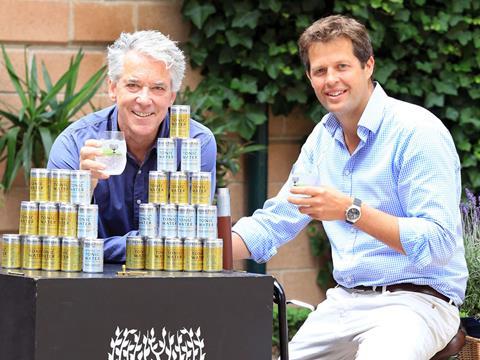 A bumper pay day for Fever-Tree co-founder and CEO Tim Warrillow as shares in the premium mixer brand soared takes up plenty of column inches in today's papers. The Times says Warrillow cashed in on the soaring share price by selling almost £29m of shares. Warrillow sold 1.5m shares on Tuesday at £19.25 each, shortly after the upmarket tonic water maker reported a 77% surge in half-year revenues and said full year results would be "materially ahead of expectations", The Guardian adds. The company, which sells posh tonic water, has consistently smashed expectations and its share price is now 15 times higher than when it floated in late 2014, The Telegraph writes.
Lombard in The Financial Times takes a wry look at the ingredients list of Fever-Tree and Britvic tonics. Fever-Tree Tonic Water ingredients: Carbonated Spring Water, Cane Sugar, Citric Acid, Natural flavouring, Quinine. Britvic Tonic Water ingredients: Carbonated Water, Sugar, Citric Acid, Flavourings, Quinine, Preservative (Potassium Sorbate), Sweetener (Saccharin). "For any Fever-Tree shareholder wondering what caused co-founder Tim Warrillow to sell £29m-worth of shares yesterday, the Lombard column hopes the above will prove instructive. For any Britvic shareholder wondering what is causing that mild nausea, the Lombard column notes that quinine can help — but potassium sorbate, not so much."
The Telegraph examines the 'politics of chicken' and free trade agreements in a business column. "…Dr Fox is wrong about this. The row over chlorinated chicken is not some piece of silly season trivia, tiny though trade in chicken admittedly is in the context of a £2 trillion economy."
A businessman has been found guilty of fraud over his involvement in a conspiracy to pass off horsemeat as beef, The Guardian writes. Andronicos Sideras took part in a plot "motivated by greed", the court heard. The Financial Times adds that three men were convicted after being part of a conspiracy to pass off 30 tonnes of horsemeat as beef to bolster profits.
A lack of demand for hot meals such as carveries during the recent hot weather has contributed to a slowdown in sales growth at Marston's food-led division, knocking the shares in the pub group and prompting analyst downgrades, The Telegraph says.
Boots has ended 130 years of manufacturing as it sells off its factories to France-based specialist Fareva, including the Nottingham factory that it opened in the 1930s (The Guardian).