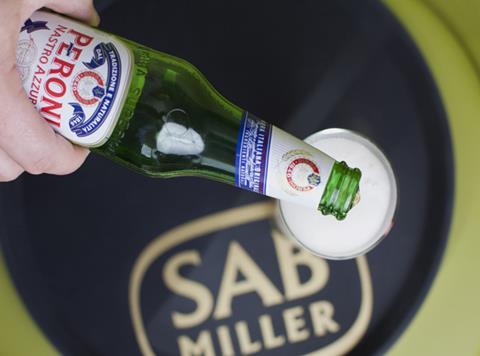 There was much speculation in the papers this weekend that an official £70bn bid could be tabled this week by AB InBev for SABMiller.
The Sunday Times said the Budweiser owner was ready to 'fire the starting gun' on the biggest-ever takeover of a British company. It added that the world's two biggest brewers had begun "friendly" talks over recent days, according to sources. SAB is understood to be "playing hardball" over price, but is not unreceptive to a deal. The Times follows up this morning with news that SAB is set to put pressure on AB InBev this week to lift its estimated £42-a-share offer. The figure indicated by AB InBev would value the brewer at £68bn but the SAB board is believed to be pushing for a price of at least £45 a share. The Telegraph added the deal would create a £181bn brewing behemoth with more than 400 brands.
Ian King warned in an opinion piece for The Times that beer drinkers should be "feeling queasy at the creation of a monster brewer". He said that SAB was run by people who were passionate about beer and understood the processes. "By contrast, it is hard to believe that Carlos Brito, the chief executive of AB InBev, would recognise a hop if he stepped on one. He and his colleagues are hard-driving number-crunchers, brilliant at what they do, which is aggressively cutting costs and boosting margins. "That management culture is utterly at odds with SABMiller's business model."
The Sunday Times reports that Tesco is close to scrapping the sale of Clubcard business Dunnhumby. Senior City sources told the paper that the advertising agency WPP, the last serious bidder left in the process, was struggling to agree a price. However, the supermarket was ready to go ahead with the £3bn sale of its central and east European operations.
The Daily Mail looks ahead to Sainsbury's Q2 trading update on Wednesday. The supermarket is expected to report another drop in sales, but it is thought it will stay ahead of struggling rivals. Sainsbury's sales are expected by analysts to have dipped 1.2% for the past three months, but the portfolio of convenience stores made the retailer "comfortably the best performer of the Big Four".
Morrisons is reportedly in a legal row with a number of property developers over a host of supermarket sites it has pulled out of building (The Telegraph). Sources told the paper that there are currently a number of ongoing court proceedings which could decide multi-million pound payouts in favour of developers.