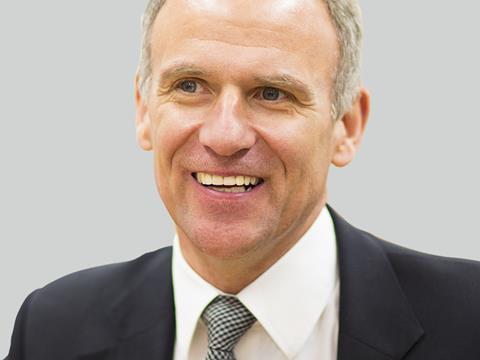 Incoming Tesco boss has a big repair job on his hands, The Times (£) writes. "When Ken Murphy replaces Dave Lewis as Tesco's chief executive on Thursday he will face a very different crisis from the one his predecessor took on six years ago."
The Grocer's editor Adam Leyland conducted an exit interview with outgoing boss Dave Lewis for this week's issue. Tesco's CEO reflects on his time at the helm of the UK's largest retailer, and on the challenges and opportunities that lie ahead for the UK and for his successor Ken Murphy.
Asda's future came one step closer to being decided over the weekend as the board of owner Walmart convened to pick a preferred bidder (The Sunday Times £). The board is choosing between private equity giants Apollo and TDR Capital.
The number of Covid-19 infections at food factories that supply UK supermarkets and restaurants could be more than 30 times higher than reported, according to a report which says employers have too much influence over official data (The Observer).
The Times (£) interviewed the boss of Pladis for this weekend's paper. Salman Amin thinks the McVitie's chocolate digestive has come into its own in lockdown.
Yorkshire-based Meatless Farm has raised $31m from investors hungry to join the vegan wave sweeping through the food industry (The Times £).
Jonathan Faiman, the Ocado ­co-founder who has built a rival tech supermarket business, has had his assets frozen by the High Court as part of an ongoing legal battle with a Russian billionaire (The Telegraph).
Ministers are preparing to enforce a total social lockdown across much of northern Britain and potentially London to combat a spiralling second wave of coronavirus (The Times £).
Hospitality sector faces a nightmare before Christmas (The Sunday Times £). Fresh curbs spell a bleak winter ahead for restaurants, pubs and clubs.
Britain's high streets could suffer a "knockout punch" following a second wave of Covid-19 as landlords and developers are forced to close down as much as 12m m2 of retail space and seek alternative tenants (The Guardian).
SSP, the owner of Upper Crust and Ritazza coffee, used a ministerial directive obtained under freedom of information laws to gain an advantage in negotiations with railway station owners (The Sunday Telegraph). The tactic will allow the FTSE 250 company, one of the world's biggest travel retailers, to slash rents owed to train operators that run most of the UK's stations, at a cost of millions of pounds to taxpayers.
Boots is emerging from this crisis with its reputation enhanced, but its finances are severely dented, writes The Sunday Times (£) as it explores how the high street chemist plans to restore its fortunes.
Boots is facing accusations of using the UK's moratorium on evictions during the pandemic as cover for aggressive lease renegotiations (The Financial Times £).
Britain is running out of time to prepare for a big increase in red tape that must accompany UK food exports to the EU from next year, industry groups are warning (The Financial Times £).
Jamie Oliver has urged Boris Johnson to block substandard food imports to Britain under post-Brexit trade deals (The Times £).
The UK government is backing the construction of the country's first industrial-scale insect farm as a way to produce more sustainable animal food for big livestock suppliers (The Financial Times £).
Marks & Spencer will this week bring back its popular UK "shwopping" scheme which is aimed at keeping clothing out of landfill, six months after it was mothballed because of coronavirus (The Guardian).
A body set up after the last financial crisis to provide independent oversight of contentious pre-pack administrations has warned that government delays over clarifying its future "may serve to ensure its demise" (The Times £). The Pre-Pack Pool, in a letter last week to the Insolvency Service, said that referrals of connected-party pre-pack administrations remain low, "perhaps as a direct result of the government's relaxation of insolvency rules because of the economic impact of Covid 19".