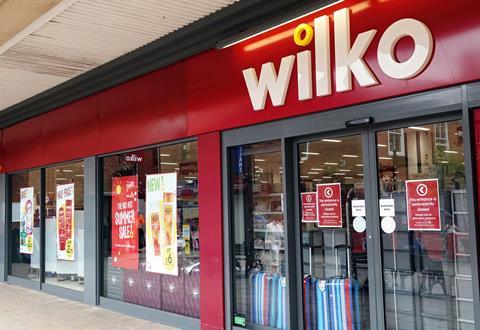 A private equity firm has made a £90m bid for Wilko as administrators press ahead with efforts to find a buyer for the collapsed retailer (The Times £).
M2 Capital, a restructuring specialist which owns a string of upmarket hotels around the world under the Como brand and is in the process of buying Michigan-based car parts maker Superior Industries, is understood to have put forward a bid that would keep the entire Wilko chain trading (The Guardian).
The owner of HMV has approached a number of debt providers to back a last-gasp rescue bid for Wilko, the ailing high street retailer. Sky News reports that Doug Putman has sounded out firms including Gordon Brothers and Hilco - from which he bought HMV in 2018 - about helping to finance an offer for hundreds of Wilko's stores.
A union representing thousands of workers at Wilko is seeking an urgent meeting with the business secretary after being told by potential rescuers of "difficulties" in engaging with the administrators who will decide upon the stricken retail chain's future (The Guardian).
A GMB spokesman said it had been a 'rollercoaster' weekend after it seemed 'all hope was gone' for staff when administrator PwC warned of imminent redundancies at the stricken homeware chain (Mail).
The Sunday Times (£) has an "emotional" interview with Wilko owner Lisa Wilkinson, who claims the chain would have collapsed even if it had not paid millions in dividends.
Wilkinson, who helped manage her family's discount retail empire for 20 years, has dismissed criticisms of the £77m dished out to former shareholders (Mail).
The third-generation owner of Wilko should have stuck to her knitting and kept prices low, a former boss of the stricken discount retailer has claimed (Mail).
An Australian discount retailer is plotting a push onto Britain's high streets as it looks to seize on the collapse of Wilko (Telegraph £). Kmart is understood to have initiated talks with major UK supermarkets in the past few months over deals to replace retailers' existing pet, toy or homeware products with its Anko-branded versions.
Trust in British supermarkets has fallen to the lowest level for a decade as households grapple with high prices, despite the rate of food prices inflation easing this month (The Times £). The latest monthly consumer insight tracker from Which? found that confidence in the grocery industry had dropped in August to the lowest level since February 2013.
The rate at which food prices are rising has continued to slow but stubbornly high grocery prices mean the cost of the weekly shop is now as big a concern as energy bills, according to research (The Guardian).
UK shop price inflation fell in August to its lowest level in almost a year, driven by an easing in food cost pressures, according to sector data (Financial Times £).
Vladimir Putin's block on grain exports from Ukraine threatens to stop food price inflation in Britain from falling, supermarket chiefs have warned (Telegraph £).
This year's El Niño weather event is expected to compound the effects on global food prices of India's rice export ban and Russia's withdrawal from the Black Sea grain deal, potentially stoking inflation across emerging markets (Financial Times £).
Brazilian cosmetics group Natura said it was studying a possible sale of The Body Shop, after struggling to turn around the fortunes of the UK retailer (Financial Times £).
Iceland has been accused of transferring "significant" sums of money from its Irish subsidiary's accounts in the run-up to a sale of the division earlier this year (Telegraph £). Metron Stores, the owner of Iceland stores in the Republic of Ireland, has written to Iceland's chief executive, Richard Walker, with "concerns around several transactions" that took place in the lead up to its acquisition in February.
The Observer carries a feature on the "bumpy ride" for the billionaire brothers who banked on Asda's success. "Blackburn's Moshin and Zuber Issa took over the supermarket promising investment to make it the UK's second-largest chain, but Covid and cost of living crisis meant it did not go to to plan."
The Times (£) writes that Russia tops agenda for Unilever's new restructuring boss. "Hein Schumacher is under attack from campaigners criticising its presence in the country and big investors demanding better overall returns."
Heineken has finally completed its exit from Russia, having sold its operations for a symbolic €1 at a loss of €300m (The Times £).
Western companies that are still selling air fresheners and ice cream in Russia have been accused of dragging their feet (Mail). Shamed firms including Unilever and Reckitt face renewed criticism for their continuing presence in the country after Heineken and Domino's became the latest to cease operations.
John Lewis and Waitrose are cutting the price of their period underwear by a fifth, becoming the latest retailer to join the effort to make reusable period products more affordable (The Guardian).
Craft beer has a bright future in Britain despite the loss of dozens of independent breweries in the past year, the new owner of Brew by Numbers, Black Sheep Brewery and Brick Brewery has said (The Times £).
The boss of Marks & Spencer says 'it will be just another day' if the High Street retailer is promoted back into the elite FTSE 100 index as expected next month. Speaking to The Mail on Sunday, Stuart Machin said the company still has 'lots to do'.
The Telegraph (£) looks at how Michael Gove's Marks & Spencer row left Oxford Street "crumbling". "Retail destination 'needs serious help' to compete with rest of London – and the world."
Pizza Hut's UK restaurant business has plunged into a debt crisis as it grapples with the fallout from soaring inflation (The Times £).
Pizza Hut UK's auditors have fired a warning shot over the company's future amid concerns over its mounting debt pile (Telegraph £). The group, which is the largest British franchise of the US restaurant chain, is in talks to refinance almost £31m of its £73m debt pile which it must repay by next April.
An editorial in The Observer thunders that "shoplifting is out of control". "Forget the police – stores need to up their game. Self-service checkouts and staff cuts compound a problem caused by the cost of living crisis."
In the first part of a series on food security, The Times (£) looks at how soaring costs have put farmers on the front line of a food crisis.
In part two of a series on food security, The Times (£) reports on how one fruit farm in Essex has addressed the twin problems of climate change and drought.
Drinkers' fading appetite for French wine has left farmers with a glut that the government is planning to spend €200m destroying (Financial Times £).