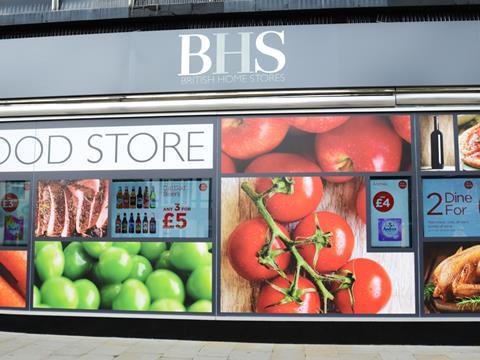 As a quiet week for grocery and retail draws to a close, BHS is inevitability in the spotlight this morning after finally collapsing yesterday.
BHS is to close with loss of 11,000 jobs and 164 shops after rescue bids failed to find a buyer, disappearing from the British high street after 88 years, writes The Telegraph. Sir Philip Green, who owned BHS from 2000 until 2015, said he was "saddened and disappointed" by the winding up order, issued by administrator Duff & Phelps yesterday afternoon. And Dominic Chappell, who bought the business from Sir Philip in March last year, said the news was "devastating" and that he was "deeply sorry it has happened". Telegraph business editor James Quinn says in a column that BHS was a case study in how not to be a retailer in the 21st century: "though few will mourn its inevitable passing, many should learn from it."
The Financial Times reports that staff at BHS on Oxford Street in London began ushering people out of the store on Thursday after learning that no buyer had been found. In a separate article, the paper writes that the flagship shop in London had a final burst of life on Thursday, with the aisles busy with shoppers and reporters and cameramen forming a scrum outside as administrators announced the chain would close within weeks.
Alex Brummer in The Mail attacks Sir Philip Green in a column, writing he "plucked the carcass of BHS and the vultures have been picking at what was left ever since". "It has been a shameful episode for all those involved and it is to be hoped that the Parliamentary, Insolvency Service and preliminary Serious Fraud Office inquiries that have been set in motion come to some rapid conclusions about culpability."
The Guardian's take in a business editorial is that the British high street needs urgent help. "The collapse of BHS may mark a new low in the fortunes of traditional British retail. Businesses, and the people who work in them, need a creative response." The Times reports that landlords may have to subdivide big stores to let out the space.
Elsewhere, The Times picks up on the 'slave labour' claims to have hit stevia producer PureCircle. The listed business suffered a "significant blow" after a shipment of its products from China was seized by US customs amid allegations they were made using slave labour, the paper says. The Telegraph notes that shares soured on the back of the allegations, falling more than 10%.