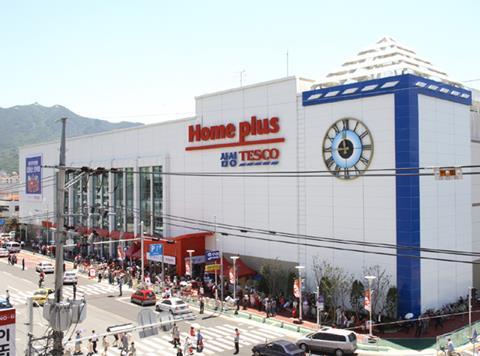 Tesco has named a consortium led by South Korean buyout group MBK Partners as the preferred bidder for its business in the country, according to reports.
The MBK consortium, which includes the state-run National Pension Service, won exclusive negotiating rights with an offer worth about $6bn, backed by the Canada Pension Plan and Singapore state investor Temasek, writes the FT. ""They are likely to sign the deal soon," the FT's source said, but added that "details of the contract could still change" as they were still being finalised. (The Financial Times £)
The Times (£) says that completion of the deal "would be a significant boost for Tesco" after concerns that the volatility in global equity and currency markets could scupper a deal. The Telegraph notes the deal will also make MBK the owner of 900 shops in South Korea, making it the second largest discount store chain after E-Mart.
As Tesco moves closer to selling its South Korean business, the FT's Lex column advises the retailer to "think carefully about how to use the proceeds". "Paying down debt is not Tesco's only option," the paper writes. "The company could "invest" in more price cuts, although less sensible with operating margins already at 1 per cent. Or it could look to extricate itself from leases on less profitable stores." (The Financial Times £)
The Telegraph says Tesco CEO Dave Lewis must now focus on the disparate parts of the diminishing Tesco empire and how they can "work together to the greater good". "There are other areas Lewis is thought to be considering divesting – including garden centres – but surely given the length of time it has taken to get sales for these major assets off the ground, the value of carving out smaller parts of the business may be next to nothing." (The Telegraph)
The Mail's Alex Brummer cautions that jettisoning operations in exciting markets may be worth a few pence on Tesco share price now – but it "could be regretted deeply later on". (The Daily Mail)
Elsewhere, The South African billionaire who has recently snapped up Virgin Active, the gym chain, and New Look, the high-street retailer, is now training his sights on Britain's struggling supermarket industry, it can be revealed. Christo Wiese, who has an estimated £4.2bn fortune, said there were parallels between the grocery sector in his home country, where he has built up the ShopRite empire into the continent's largest food retailer, and the highly competitive UK market. (The Telegraph)
Some supermarket warehouses are now worth more than their stores as customers switch from visiting shops to online deliveries. Yields on so-called "big boxes" have dipped below those of the shops for the first time, according to Savills, the property agent. While high streets and out-of-town shopping centres put up "to let" signs, there is an unlikely property boom along England's key motorways as huge sheds spring up. (The Financial Times £)
Tesco has agreed to increase the amount it pays farmers for milk used to produce cheese, in a major victory for the dairy industry in its battle with supermarkets. Britain's biggest retailer will pay farmers a price based on the cost of production in what farming leaders described as a significant move. (The Guardian)
The personal contact details of WHSmith customers has been sent to thousands of people after an IT glitch distributed their email addresses, phone numbers and postal addresses overnight via a mass email. WHSmith stressed that the glitch had affected 22 customers and that no password and payment details have been shared. (The Times £, The Guardian, The Telegraph)