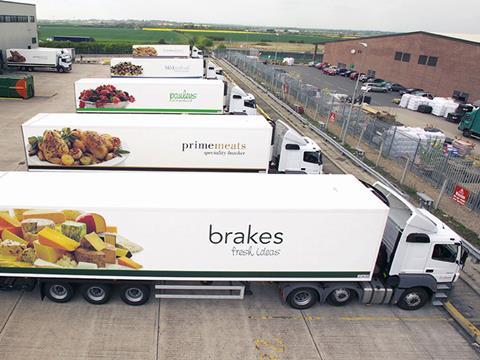 Brakes Group, the UK's biggest food distributor, has begun preparing for a stock market listing in London that could see it valued at up to £2.5bn, according to Sky News.
Bain Capital, the private equity group which bought Brakes in 2007, has appointed investment bankers at Lazard to advise on a public share offering. A listing, which would not take place until next year, would be likely to catapult Brakes straight into the FTSE-250 share index. (Sky News)
Coca-Cola Enterprises, the bottler of Coke products for western Europe, is in discussions about a merger with its Iberian and German counterparts in a three-way deal that would further simplify the manufacturing of products for the world's leading soft-drink company, writes the FT. "The talks have been ongoing for nearly a year and are highly complex according to people familiar with the matter, who stressed that there is no guarantee of a successful outcome". If agreed, the deal is likely to be one of the biggest consumer deals ever reached in Europe. (The Financial Times £)
Marks & Spencer is to close nine of its stores and is consulting with 430 staff whose jobs are affected. Britain's biggest clothing firm has already told workers at stores including Hounslow and Stevenage and staff have been offered jobs at other shops. However, it is planning to open 90 new Simply Food outlets and five more large stores. (The Daily Mail)
Sales made by internet companies without physical stores, such as Amazon and Asos, will surpass online sales of store-based UK retailers for the first time this year. So-called "etailers" are expected to generate £21.8bn-worth of sales in 2015, an increase of 18pc from last year, while traditional stores should grow their online sales by 11pc to £21.5bn, according to a report from market research firm Mintel. (The Telegraph)
Diageo's annual results yesterday generate plenty of coverage.
"Upbeat Diageo fails to impress investors", according to The Times (£), which notes that despite CEO Ivan Menezes "bullish prognosis" the stock market was "unimpressed by lacklustre full-year results". The Financial Times (£) said that it was a sustained downturn in emerging markets "prolongs Diageo's hangover", while The Telegraph focuses on the CEO's insistance Diageo has "never been in better shape" as he "attempts to shore up support for his leadership among shareholders". The Daily Mail suggests the lacklustre results stem from a "US vodka price war and drinkers switching to flavoured whisky".
Anheuser-Busch InBev, the world's largest brewer by sales, suffered a hangover after last year's World Cup with volumes dropping sharply in its second quarter. (The Financial Times £)
The FT's Lex column looks at P&G, musing of its growth forecasts: "In golf there is an old joke about how to increase one's driving distance off the tee: just hit the ball and run backwards. Procter & Gamble may have just discovered the corporate version of this ruse." (The Financial Times £)
The Daily Mail has a feature on Unilever-owned Wall's Ice Cream. Unilever's head of refreshments Kevin Havelock thinks ice cream is enjoying a "golden era", which the Mail notes is "not bad for a product that was just supposed to tide the firm over until the pork business picked up". (The Daily Mail)
French retailer Casino has sold its Latin American business to its Colombian supermarket chain Exito, in a €1.7bn deal. The move is designed to squeeze cash from Casino's assets in the region and help weather a slowdown in Brazil. (The Financial Times £)