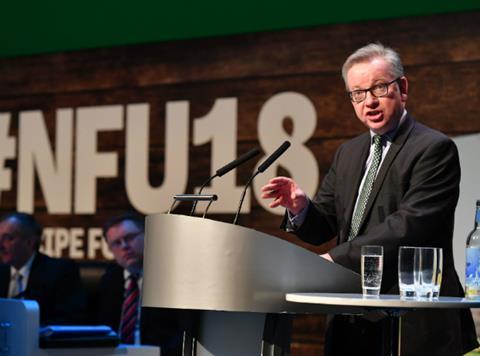 A no-deal Brexit would spell severe disruption for the UK's farming and food industries, and hardship for small farmers in particular, the environment secretary, Michael Gove, has said (The Guardian). Farmers and food producers face "considerable turbulence" if the UK leaves the EU with no deal, environment secretary Michael Gove has said (The BBC). The UK's Eurosceptic environment secretary Michael Gove has warned there would be "considerable turbulence" for British farmers in the event of a no-deal Brexit (The Financial Times £).
Next has administered a much-needed salve to the battered retail sector after reporting its Christmas trading was not as bad as feared, although it admitted profits for the year would be marginally lower as shoppers shifted online (The Telegraph). A late surge in online sales helped save Christmas for the fashion chain Next, with its better than expected performance helping to lift shares across the battered retail sector (The Guardian). Next has delivered a dose of relief to Britain's beleaguered retail sector after a late surge in online orders helped it grow sales over the Christmas period (Sky News).
Next has defied the doom and gloom on the high street to record better than expected Christmas trading, helped by stellar online sales that offset its weaker store division (The Times £). Fashion retailer Next kicked off the festive reporting season with a smaller than expected downgrade to its full-year profit forecasts, but its statement again highlighted concerns about the pace at which retail sales are migrating from stores to the internet (The Financial Times £). Online sales are a lifeline for Next, but slump in stores casts shadow over High Street (The Daily Mail).
The FT notes that this year will be the first when Next's shop revenues drop below half of the group total. "That puts Next further ahead of the retail flock than its bellwether status implies. Only one-fifth of all UK retail sales are digital. Next shows where UK shopkeeping is heading." (The Financial Times £)
Shop prices rose at their fastest rate in six years despite heavy discounting by fashion retailers on the high street before Christmas. (The Times £)
Wagamama, the Asian-themed chain that is being acquired by The Restaurant Group, said on Thursday it outperformed the UK restaurant sector in its second quarter to November 11, with turnover up 15.4 per cent year-on-year to £81.5m. (The Financial Times £)
US researchers have reached a landmark on the path to what they say will be the next agricultural revolution, significantly boosting crop growth by making photosynthesis more efficient. (The Financial Times £)
The Guardian looks at "protein mania" – the rich world's new diet obsession. It argues: "If you're worrying about the amount of protein in your diet, then you're almost certainly eating more than enough."
Babies don't have a sweet tooth, so why is their food full of sugar, asks the Guardian? "Childhood obesity won't be solved when the food industry discourages healthy eating from the earliest of ages". (The Guardian)