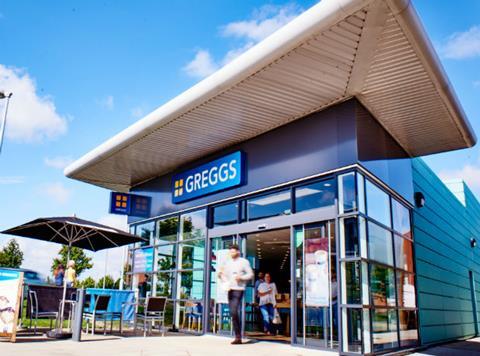 The popularity of vegan sausage rolls has resulted in record profits for Greggs, but the bakery chain said yesterday that stormy weather had depressed sales last month and it raised concerns about the potential impact of the coronavirus outbreak (The Times £). Greggs made record profits in 2019, the year that it launched its popular vegan sausage roll, but the Newcastle-based company said the storms and flooding that battered Britain in recent weeks have put the brakes on sales (The Guardian). Greggs enjoyed a 13.5 per cent sales rise to £1.2billion last year boosted by its vegan sausage rolls - but today warned February sales have been much lower because of the poor weather (The Daily Mail). Greggs has reported a big rise in annual profits helped by the launch of its new vegan ranges but warned of uncertainty ahead because of the potential impact of the coronavirus (Sky News).
Greggs has been forced to stop selling Welsh cakes and vegan donuts after a bakery was flooded by storms Dennis and Ciara (The Telegraph).
Greggs boss Roger Whiteside has said his firm would pay staff who have to self-isolate because of coronavirus. (The BBC)
Greggs is eyeing a further push into the coffee shop market after the British bakery chain achieved record profits and overtook Starbucks in the amount of the beverage it served in the UK last year, even as the potential impact of coronavirus cast a shadow over its outlook for 2020 (The Financial Times £).
February's foul weather battered sales after a "very strong start" to the year. Yet, most retailers would die for what counts as a "significant slowdown" at Greggs these days. (The Telegraph)
The FT writes: "The secret sauce of this vendor of cheap snacks is a very northern trait: thrift. The company is spending on new plants and shops. It opens new stores at a rate of around 100 a year… To ease the burden, Greggs aims to claw back around £20m from site disposals. The investment itself should deliver recurring savings of £9.5m off the 2015 base." (The Financial Times £)
However, the coronavirus, overseas ambitions and an eventual exit of its CEO could see it lose momentum, warns The Telegraph.
Investors threw supermarket shares into their trolleys yesterday as industry data showed that British grocery sales picked up sharply in February (The Times £). Lidl is now the fastest-growing supermarket in Britain, according to the latest market data (The Daily Mail).
Sales of hand sanitiser in supermarkets more than tripled last month as worried customers flocked to protect themselves from coronavirus (The Telegraph). Sales of hand sanitiser in Britain's supermarkets surged by 255% last month, as hygiene-focused shoppers sought to stave off the novel coronavirus (The Daily Mail). Sales of hand sanitiser rose by 255% in February amid concerns about the coronavirus outbreak, according to latest supermarket industry figures (Sky News)
Amazon is struggling to contain rampant price-gouging by sellers capitalising on the fear surrounding the spread of the coronavirus. Hand sanitiser and respiratory masks were in some cases being sold on the site on Monday at a more than 2,000 per cent mark-up, compared to normal retail prices, despite Amazon saying it had removed "tens of thousands" of listings and was monitoring postings closely. (The Financial Times £)
Hand sanitiser sales are being limited at pharmacy chains as fears over the coronavirus have boosted demand. (The BBC)
The new chief executive of Reckitt Benckiser has quietly ditched plans by his predecessor to split the business little over a year after they were announced. (The Telegraph)
The new boss of Strepsils owner Reckitt Benckiser has bought 17,241 shares in the company for £1m. (The Daily Mail)
Industry leaders have demanded a sweeping overhaul of business rates in this month's Budget, saying the regime is deeply flawed and punishes firms that are already struggling. (The Telegraph)
The freeze in beer duty in the last budget lifted sales volumes last year by 1.1% to more than eight billion pints, according to the British Beer & Pub Association. (The Times £)
A Bristol brewery is refusing to change the artwork on the can of one of its bestselling beers, despite a ruling by the UK drinks industry's regulatory body that the cartoon-style animals have "particular appeal" to children. (The Guardian)
US restaurant supplier Sysco Corp has contacted German wholesaler Metro over a potential takeover, people briefed on the matter told The FT. (The Financial Times £)
More than half of global supply chain managers fear that a post-Brexit trade agreement with the United States will do more harm than good to the British economy, according to new research. (The Times £)
Impossible Foods, the US plant-based burger group, has cut the price it charges restaurants to stock its products as the company steps up its challenge to the meat industry. (The Financial Times £)