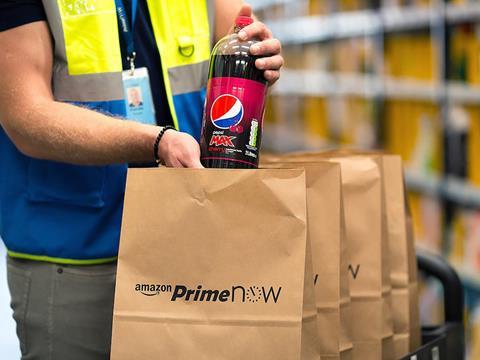 Amazon is to deliver food to another 42 postcodes in the south east of England as its aggressive assault on the online grocery market continues. As it approaches the first anniversary of its UK launch, Amazon Fresh will announce this week it is extending food deliveries to new areas in Hertfordshire and Bedfordshire. The expansion means that Amazon Prime members from Watford and St Albans to Berkhamsted and Luton will be able to order their weekly shop. (The Times £)
Ocado, the online grocer that is trying to reinvent itself as an automation-focused technology company, has signed a long-awaited licensing deal with an international customer — but it cannot say who, and has yet to commit to putting its equipment in any warehouses (The Financial Times £). The retailer will not use Ocado's automated warehouse technology and will instead have its own employees pick the products for delivery, a decision that means the partnership could fall short of investors' high hopes for a transformational deal abroad (The Telegraph)
Tesco's £3.7bn takeover of wholesaler Booker is facing fresh opposition from the supermarket's major investors. Schroders and Artisan have already called for the deal to be abandoned, now Daniel O'Keefe, a managing director at Artisan, told the Sunday Telegraph that he has not found any other shareholders who actively support it. (The Daily Mail)
The opening shots have been fired in what is likely to be one of the first and fiercest battles to shape post-Brexit trade policy. British Sugar has embarked on a Back British Sugar campaign, in opposition to Tate & Lyle Sugars, which campaigned to leave the EU. British Sugar, part of Associated British Foods, produces its Silver Spoon brand from British beet, but Tate & Lyle's sugar is refined from imported cane. (The Times £)
Writing in The Telegraph, Unilever CEO Paul Polman says that brighter days lie ahead for the Paris Agreement. He writes: "For those present at the 2009 climate summit in Copenhagen, this week's events will prompt similar feelings of disappointment, anger and even disbelief that in the face of all the evidence, politicians sometimes get it wrong. But the doomed Copenhagen summit spurred on a new generation of climate advocates." (The Telegraph)
British shoppers buy more food online than consumers anywhere else in the world, according to Kantar Worldpanel (The Telegraph). Britain has cemented its reputation as a nation of internet shoppers and big eaters as it topped a poll for the largest online food baskets in the world for the second year running (The Times £).
Meanwhile, Surge pricing comes to the supermarket, according to The Guardian. Online retailers are increasingly using your personal data to decide how much to charge you. And high-street shops are about to get in on the act. (The Guardian)
People are drinking less, according to industry figures that make sobering reading for brewers and distillers banking on growth from rising numbers of youngsters reaching legal drinking age (The Financial Times £). Beer sales continued to slide last year and the trend towards cider sipping stalled. The global market for all alcoholic drinks contracted 1.3% in 2016, driven by a 1.8% fall in beer sales, the International Wine and Spirits Record found. (The BBC)
The American hedge fund owners of the Co-operative Bank are expected to stump up £300m as part of a rescue deal for the troubled former mutual. Silver Point Capital, Golden Tree Asset Management and other vulture funds are in "pole position" to take full ownership of the bank, according to City sources. (The Times £)
The boss of the Fairtrade Foundation has accused Sainsbury's of leaving tea growers in the lurch by launching its own 'Fairly Traded' ethical label. Fairtrade chief executive Michael Gidney told The Mail on Sunday he had visited farmers in Africa with Sainsbury's representatives last month in a failed attempt to convince them to think again about their plan to start a pilot scheme. (The Daily Mail)
Another slice of Domino's Pizza is set to be served on the London Stock Exchange as the brand's second master franchisee readies a listing in the UK (The Telegraph). The restaurant company that has the Domino's Pizza franchise in Turkey, Russia, Azerbaijan and Georgia will announce plans today to float on the London Stock Exchange. DP Eurasia, which has 571 stores, hopes to raise £20 million to support expansion in Russia (The Times £).
Supermarket plant sales are reducing customers' choice, says Gardeners' World presenter Monty Don. Nurseries increasingly focus on plants that can be mass produced so the big stores can sell them cheaply, he says. (The BBC)
One in 25 businesses, or nearly 80,000 enterprises, would struggle to handle an increase in interest rates of as little as a quarter of a percentage point, according to research by the insolvency trade body, in the clearest sign yet of the fragile state of corporate balance sheets. (The Times £)