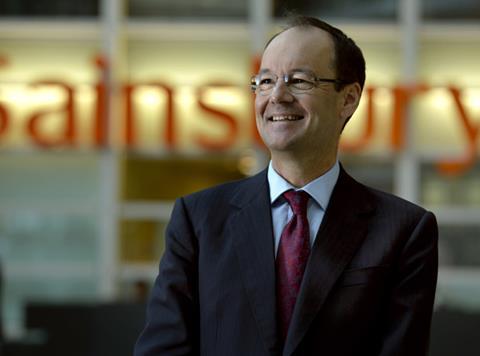 With Sainsbury's full year results this week and Morrisons Q1 trading figures, there are plenty of predictions of doom in the papers.
Sainsbury's is widely tipped to record its first loss for a decade as, like with Tesco, property writedowns drag down a trading profit. The Guardian expects Sainsbury's to record a 17% fall in profits to £660m on Wednesday before property writedowns are taken into account. The Telegraph notes this would represent its first profits fall since 2005 "when then-chief executive Justin King committed hundreds of millions of pounds to turn around the ailing chain".
The Sunday Times (£) said Sainsbury's will take a £665m blow from write-downs on the value of stores and sites, pension charges and systems changes after buying back Lloyds' 50% stake in their banking venture. In addition to another £25m of costs related to the bank handover, this will tip the supermarket into a statutory loss. The Financial Times (£) notes that "expectations of Sainsbury's underlying performance have fallen sharply", with analysts reducing their forecasts for its pre-tax profits by two-fifths in recent months.
The picture looks just as gloomy for Morrisons. The supermarket will report that like-for-like sales fell by 3.3 per cent during the first three months of the grocer's financial year (The Times £). According to The Telegraph, the board of Wm Morrison has paved the way for new boss David Potts to begin a fresh round of swingeing price cuts and reset the retailer's profit margins by refusing to set financial targets on bonuses until he has conducted a strategic review.
Elsewhere, The Times reports that the hearing to overturn an Egyptian jail sentence of two years imposed on Sainsbury's chief executive Mike Coupe has been postponed until May 21. A judge in Giza ruled over the weekend that the hearing on a case that dates back 16 years to Sainsbury's investment in an Egyptian business should be heard by another judge. (The Times £)
Tesco has rejected a £4bn unsolicited bid for its South Korean assets from an American private equity giant Carlyle. Sources said Carlyle first approached Tesco when Sir Richard Broadbent was chairman and sent in another proposal when John Allan replaced Broadbent in March, but a source said Tesco quickly "kicked it into touch" (The Sunday Times)
The Co-operative Group still faces opposition to its planned boardroom overhaulbefore the annual general meeting on 16 May, where an emergency motion is set to call for a halt to the election of three potential directors. The boardroom shakeup could also be at risk from a legal opinion that reportedly concludes the decision to crop a shortlist of candidates s not within the organisation's powers. (The Guardian)
Diageo is poised for a shake-up with the sale of parts of its wine division, maker of popular brands such as Piat d'Or and Blossom Hill. The disposal would be the first big move by Ivan Menezes, who took over from the long-serving Paul Walsh as chief executive of Diageo in 2013. (The Sunday Times £)
"Real Good Food group's name is a nightmare for lovers of the English language… And until last week the Aim-quoted company was a nightmare for investors," writes the FT, looking at its sale of its Napier Brown Sugar business. It concludes the deal is a boon for RGF noting: "Now RGF has the wherewithal to feed up its other businesses making marzipan and icings, and baking custard tarts for Marks & Spencer and Waitrose. Mr Totté [RGF's chairman] has turned a nightmare into a dream." (The Financial Times £)