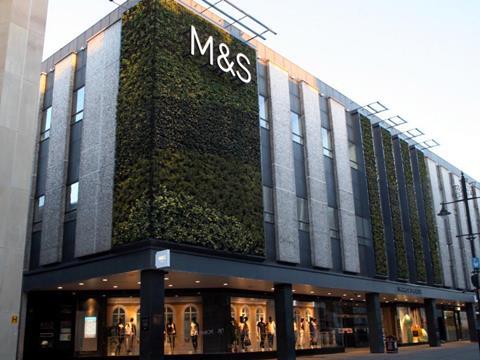 Unsurprisingly M&S' half year trading results are the main topic of conversation in today's papers.
The FT writes that the sales fall in general merchandise "underscores the challenge of turning round the UK retailer", addining: "But the high street bellwether reported significant progress in its efforts to improve its bottom line by shaking up sourcing." (The Financial Times £). The Times (£) says M&S is "dressed for success, if not to impress", noting the focus on improving margins, while The Telegraph writes that M&S has "soothed shareholders with pay-out despite sales slip" after it increased its interim dividend.
The FT's Lex column says: "Half-year results on Wednesday suggest that M&S is now mastering concepts others have long taken for granted." It compares M&S to WH Smith, arguing that M&S could learn from its high street contemporary: "Like M&S, its stores are standard fixtures on many a UK high street, when better prices or higher quality can be had elsewhere. It has dealt with this reality by focusing on cash rather than growth." (The Financial Times £)
Alistair Osborne in The Times (£) writes: "Being a full-time fashionista takes effort. So little wonder that after a long day hanging out with Rosie Huntington-Whitely, Marc Bolland likes to dispense with his suede skirts or even "fun penguin onesies" and think about something that really turns him on: gross margins."
The Telegraph comments: "Bolland has told the company he wants to stay on for another two years, and handing investors more cash and reducing debt has no doubt given him some space to do that - for now. But while M&S womenswear continues to steal the limelight, he will be sure to want to deliver some positive numbers before he departs."
Nils Pratley in The Guardian writes: "Today, the M&S arithmetic works. After a long period of heavy capital expenditure, the business is generating lots of cash – £256m in the six-month period – and debt is falling steadily, allowing a 6% hike in the dividend and, presumably, more share buybacks in time. The food division continues its winning ways and only the international side, inevitably hampered by Russia and currencies, is a drag. Bolland deserves more credit than he's getting."
Alex Brummer in The Daily Mail says: "What really matters to shareholders are profits, earnings and dividends. In this, M&S came up trumps in the first half of the year… The latest results buy [Bolland] some more time to complete one of the most closely monitored transitions for a British enterprise.
Elsewhere, Asda is understood to be planning to scale back its plans for Black Friday later this month after the promotional frenzy in its stores last year failed to deliver profitable sales. In 2014, the retailer attracted negative publicity after camera crews invited to its Wembley store filmed shoppers fighting over discounted TVs. (The Guardian)
Scotch is one of Britain's biggest exports and, though the most recent figures still show falling sales, a return to growth is on the horizon, led by single malt and premium blended whiskies, according to the Scotch Whisky Association. (The Financial Times £). A recent slump in exports of Scotch whisky is starting to slow amid evidence of improving trends in several key markets such as China and Japan. (The Times £).
"Why supermarkets' love of use-by dates leads to food waste" writes The Guardian. Use-by and best-before dates have been endowed with an authority they do not deserve, the paper says, and allow food manufacturers and supermarkets to play around with the concepts of freshness and safety. (The Guardian)
Pubs group JD Wetherspoon warned of a second year of falling profits because of the impact of higher staffing costs. Chairman Tim Martin, who has been a vocal opponent of the National Living Wage, used a first-quarter trading update to warn of 'annual profits being slightly lower than the last financial year'. (The Daily Mail)
Food-conscious Americans could save Whole Foods, says the company. All the upscale supermarket has to do is convince them that its food is really of a superior quality. The grocery chain is struggling as more markets are beginning to offer similar products at lower price points. After Whole Foods released its fourth quarter results on Wednesday, its stock dropped more than 6%, but the company insisted that its missed expectations are just a momentary setback. (The Guardian)
Shares in Barry Callebaut fell more than 10 per cent on Wednesday after the Swiss chocolate and cocoa group said it was lowering growth targets as a result of weak market conditions. (The Financial Times £)