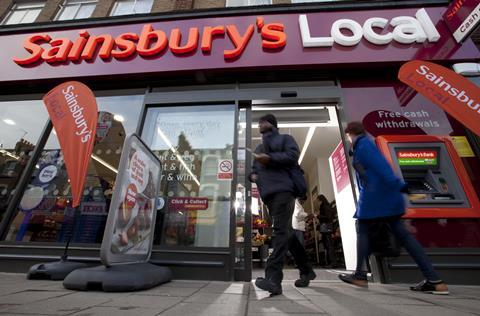 Writing up this morning's Sainsbury's full-year results, the media is concentrating on the headline loss of £72m recorded after a number of special charges taken during the year. (Sky News, The Telegraph, The Guardian, The Times £).
Elsewhere, two more non-executive directors have stepped down at Tesco, including the chairman of its audit committee, meaning an overhaul of the supermarket group's entire senior team is almost complete. The company said Ken Hanna and Stuart Chambers would stand down following Tesco's annual meeting in June (The Telegraph, The Guardian).
More price cuts on the way in stores, according to The Times (£). It writes that the speed at which prices in the shops are falling eased last month, but retailers are expected to reduce them still further to entice reluctant consumers through the doors, according to the British Retail Consortium and Nielsen.
Supermarkets are leaving families at risk of food poisoning by putting a price war with rivals above tackling a deadly bug found in chicken, The Telegraph writes. Jeremy Hall, a director of Bernard Matthews Farms said it would add around 10p to the cost of each chicken to reduce campylobacter contamination to safer levels.
Marks & Spencer unveiled its crucial Autumn/Winter clothing collection last night ahead of full-year results later this month. Style director Belinda Earl will hope the designs build on fourth quarter sales figures, up 1.2 per cent or 0.6 per cent, on an underlying basis. Women's clothing has been a drag on the business after a few fashion misses and distribution problems. (The Daily Mail)
After opening proceedings against Google last month, EU competition commissioner Margrethe Vestager said yesterday that she was examining allegations made by trade unions and charities that the American fast-food group had made unfair tax deals in Luxembourg. (The Times £)
Meanwhile, McDonald's may struggle to replicate British success, according to The Financial Times (£). New CEO Steve Easterbrook was credited with transforming McDonald's UK business between 2006 and 2011 from being a purveyor of "fast-food junk" to "family-friendly food". But he now faces a more daunting task. He must resuscitate the reputation of the entire company. The global brand has soured amid scandals in Asia and a global revolution in consumer tastes.
Middle-class shoppers have been warned to watch for Fairtrade fraudsters. Counterfeit food labels are a growing fraud meaning shoppers may be buying fake Fairtrade or organic products. (The Telegraph)
Australian supermarket chain Woolworths will shed an extra 400 jobs as it looks to save $500m in costs. Woolworths' chief executive, Grant O'Brien, told investors on Wednesday the company had already axed about 400 full-time positions from its back-office operations. Now a further 400 positions will be cut as the retailer accelerates its "lean retail" model. (The Guardian)