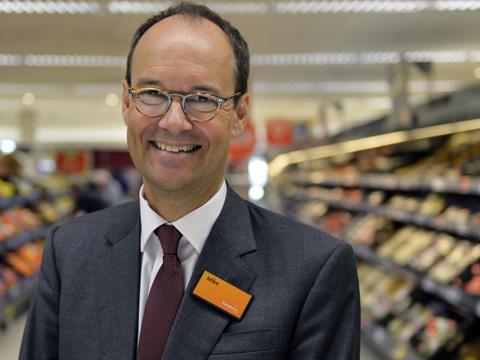 Sainsbury's bosses have exercised share options worth £4.5m, the timing and size of which could raise eyebrows so soon after the Asda merger was announced, reports the Financial Times (£). The newspaper suggests that perhaps Sainsbury's chief executive Mike Coupe's "We're in the Money" rendition was a prediction rather than a reaction. "Sainsbury's Mike Coupe trousers £1.8m in share awards", says The Daily Telegraph. A Sainsbury's spokeswoman, however, said Coupe was not selling any shares for cash and was not making any immediate profit. He was selling a portion of shares to meet tax and national insurance obligations which was standard practice and happened every May, immediately after the publication of the preliminary results.
Grocery price wars look poised to intensify as the German discounters react to the proposed Sainsbury's and Asda merger, says The Daily Mail.
Retail sales suffered their biggest decline in more than two decades last month, figures from the British Retail Consortium and KPMG show, The Times (£). Retail sales fell 3.1% in April compared with the same month the previous year. The timing of Easter contributed to the fall but was not enough to account for its extent. Total food sales climbed 3%, which was below the 12-month average growth of 3.5%. The Daily Telegraph notes that online shopping took a larger share of overall retail sales at 22% in April, up from 20.8% the previous year. The Guardian says retailers hope the royal wedding later this month and the World Cup in June and July will boost spending. Reuters also references a separate survey from Barclaycard which pointed to lacklustre consumer spending last month. It said consumer spending — which includes a broader range of purchases such as eating out — rose at an annual pace of 3.4% in April after increasing 2% the previous month, when heavy snow led to a sharp slowdown.
A recruitment industry survey shows the retail sector plummeted from the most-active recruiter to the 10th last month compared with the same month the previous year, The Guardian. The Recruitment and Employment Confederation, which conducted the survey, said it was a good time for staff to weigh up how they could transfer their skills to other roles, The Independent.
An adviser to Public Health England, Susan Jebb, claims paying for petrol at the pump can help to prevent obesity because forecourt shops are tempting people to buy confectionery, The Times (£). Professor Jebb told MPs on the health select committee that banning junk items at checkouts would work alongside restrictions on promotion and advertising that ministers were considering to create a change in Britain's relationship with food.
Ocado chief technology officer Paul Clarke tells Reuters why its new high-tech plant in Andover has caught the attention of the world's retail bosses "who are racing to crack internet food shopping".
Monster Beverage reported quarterly net revenue up 14.7% to $850.9m (£628.9m) and net income up 21% to $216.1m, the Financial Times (£). Analysts had expected $225m in income.
The US's largest milk supplier Dean Foods has narrowed net losses in the quarter to the end of March from $9.8m a year ago to $265,000, the Financial Times (£). Revenue fell 1% to $1.98bn. The company said initiatives taken to lower its cost base and enable it to deliver consistent earnings and cash flow over the long term were "clearly working".
US coffee giant Starbuck is to try its luck in the home of the espresso – Italy. The business has chosen a former post office in Piazza Cordusio, near the Duomo, in Milan, for its first outlet there, The Guardian.
Bloomberg asks whether rosé gone too far, likening it to "an invasive species penetrating the territories of other food and drinks" from gin to gummy bears. It gives examples of 10 new items on this summer's "rosé horizon" and rates them on a scale of one to ten.
When is Irish whiskey not Irish whiskey? Maybe after Brexit, says Bloomberg, which says Bushmills, distilled close to the banks of the River Bush in Northern Ireland, risks losing its Irish whiskey tag after Britain leaves the European Union, according to Martin Kenny, a lawmaker with Sinn Fein.
Labour Market Enforcement, a government-backed body set up last year to oversee a crackdown on exploitation, has made 37 recommendations including that big companies should put more pressure on their suppliers, BBC. The government will respond officially later this year.
Wet wipes, responsible for 93% of blockages in UK sewers, could get canned over the next couple of decades as the government plans to eliminate plastic waste, including the wipes which contain non-biodegradable plastic, BBC. The report says suppliers will either have to develop plastic-free wipes or shoppers will have to go without.