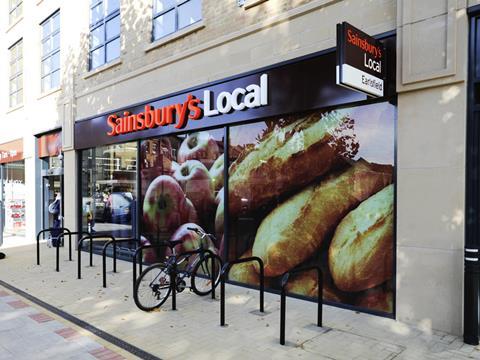 Sales at Sainsbury's have picked up after the supermarket group benefited from the hot UK summer and lowered its prices, but warned of an "uncertain" outlook going into the key Christmas period (Financial Times £). Sainsbury's has admitted staff cuts led to gaps on its shelves over the summer as it ran out of stock, but the supermarket's boss has promised stores are now back to normal (The Guardian). Coupe made the comments as Sainsbury's revealed a 40% fall in pre-tax profits to £132m in the six months to 22 September, after hefty one-off costs, including £69m on redundancies and other restructuring at its supermarkets (Daily Mail). It was lambasted for its empty shelves in the hot weather but Sainsbury's said its "bumpy" start to the summer was behind it after interim profits rose by 20% (The Times £).
The boss of Sainsbury's, Mike Coupe, has made a fresh appeal to the competition watchdog to approve its £10bn merger with Asda as he warned the discounters' creeping incursions into upmarket food ranges will make Christmas even tougher (Telegraph). Sainsbury's would challenge in the courts any unfavourable ruling by the regulator on its agreed takeover of rival Asda if it believed it was not backed up by published evidence, its boss said on Thursday (Reuters).
The proposed takeover of Asda by Sainsbury will reduce competition, hurt smaller retailers, limit innovation and increase copying, according to a lobby group (Financial Times). In its submission to the Competition and Markets Authority inquiry on the transaction, the British Brands Group said the combined market share of Sainsbury and Asda for branded goods was significantly higher than their share of the overall grocery market because Aldi, Lidl and Marks and Spencer sell mostly own-label products. Wm Morrison, one of the big four grocers with Sainsbury's, Asda and Tesco, warned that even a small price rise after the merger could have a "significant adverse impact" on shoppers (The Times £).
"Sainsbury's tries to hit right notes to win over Asda deal critics", writes Matthew Vincent for Lombard in the Financial Times £. "In April, when launching a £7.3bn proposed takeover of supermarket rival Asda, he was caught singing "We're In The Money", from the musical 42nd Street. On Thursday, when issuing his company's half-year results, he almost seemed to break into "Boulevard of Broken Dreams", from later in Act I."
Iceland's Christmas campaign has been banned from TV because it has been deemed to breach political advertising rules (The Guardian). As part of its festive campaign the discount supermarket struck a deal with Greenpeace to rebadge an animated short film featuring an orangutan and the destruction of its rainforest habitat at the hands of palm oil growers. Iceland, which has previously announced its intention to remove palm oil from its products, said the film fitted its agenda, leading to it deciding to recycle the film as its 2018 Christmas advert (The Telegraph).
Tate & Lyle said on Thursday its profits were stung by a large one-off charge for streamlining its business, but underlying earnings ticked up despite higher transport and materials costs (Financial Times £). The group behind the Splenda sweetener brand reported a 30% decline in pre-tax profits in its half-year results to £113m. Sales were 1% lower to £1.38bn in the six months ending in September. Alistair Osborne in The Times (£) writes, "taken together these results represent a creditable performance by Tate & Lyle, which is starting to demonstrate its potential."
Marks & Spencer has eschewed a John Lewis-style blockbuster Christmas ad in favour of a TV and social media campaign starring Celebrity Juice duo Holly Willoughby and Keith Lemon with a sharper focus on its products and prices (The Guardian).
European Union fishing fleets must be given wide-ranging access to British coastal waters as the price of agreeing an all-UK Brexit divorce deal, The Telegraph has revealed. Senior EU diplomats have warned that any plan to grant the UK a temporary customs union to solve the Irish backstop problem must come with cast-iron guarantees that EU boats will be free to fish in UK waters.
The booming ecigarette industry is bracing for big curbs in the US, the world's largest vaping market, as Washington prepares to follow through on a threat to clamp down on which products can be sold (Financial Times). Regulators are planning to ban most flavoured versions of the product in shops and petrol stations across the country, according to people familiar with the matter.
High street shops closed at a rate of around 14 a day in the first half of the year, while openings were down a third, a report suggests (Telegraph). Retailers are battling the worst trading conditions for five years, with the growth of internet shopping and business rates blamed for the challenging climate (The Guardian).
'Coca-Cola bottler puts fizz into the Footsie', writes Simon Duke in The Times (£). "Few of us would pop open a bottle of Coke to mark a moment of jubilation. But there is much to celebrate in figures from Coca-Cola Hellenic Bottling Company, which gushed 5 per cent higher on the back of a solid third-quarter trading update."
Almost 20% of deaths worldwide are attributable to an unhealthy diet, with high blood pressure and smoking completing the top three risk factors for reaching the grave, according to a new report on the state of the world's health (The Guardian).
It was a big night for California chickens, cows, and pigs as midterms voters overwhelmingly supported an initiative codifying the most progressive animal welfare protections in the world (The Guardian). California Proposition 12, which passed with more than 61% of the vote, sets specific space requirements for confined animals raised for food.
Money bloggers are encouraging families, schools and workplaces to give as well as receive this festive season by starting a "reverse advent calendar", putting aside one item each day to donate to their local food bank before Christmas (Financial Times £).