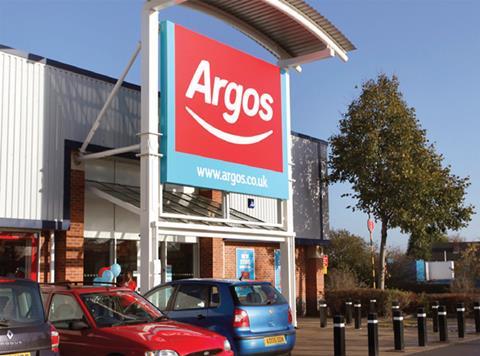 The surprise news yesterday that Sainsbury's held talks takeover with Argos owner Home Retail Group has triggered a flurry of news stories in today's papers.
The Times (£) writes that Sainsbury's is expected to make new offer for HRG after its initial £1bn bid rejected. The Telegraph predicts Home Retail Group could be broken up if a second bid is successful, with Sainsbury's likely to sell on the DIY chain to either a trade or private equity buyer.
Separately, The Telegraph notes that Argos and its online delivery is the real prize for Sainsbury's. "If Coupe is successful in mounting a takeover for Home Retail - and that's a big 'if' given the 41.1% share spike in its shares on Tuesday - Sainsbury's would be betting its future on Argos' digital revolution, a revolution which, despite [Home Retail CEO] John Walden's best efforts, still sees many of its customers favour its hefty catalogues and mini blue pens."
The Financial Times (£) agrees: "The real prize for Sainsbury's is Argos… Sainsbury's believes owning Argos, which can deliver orders within four hours in cities, will help it compete with parvenu Amazon in online grocering." A further FT article says the threat of Amazon has triggered the approach: "Like all of the UK grocers, J Sainsbury has been watching the rise of Amazon with trepidation. In recent months the US online group has turned its gaze to food." (The Financial Times £)
However, The Times (£) notes that a sceptical market still to be sold on Sainsbury's bid for Home Retail Group. "Investors' reaction to a potential swoop was not favourable yesterday… [but] many in the retail sector believe that the deal "should and will happen"." (The Times £)
Other stories triggered by approach, include hedge funds counting the cost of Sainsbury's surprise revelation as their bets on the high street retailer turned sour (The Times £). The Guardian writes that hedge funds, including Marshall Wace, Newbrook Capital Advisors, WorldQuant and Crispin Odey's Odey Asset Management, have lost more than £30m in a single afternoon after shares in Home Retail Group surged.
Meanwhile, the City regulator is expected to examine trading in Home Retail shares after they surged by almost 16% before J Sainsbury revealed it had made a takeover approach. (The Telegraph)
The Daily Mail writes that Home Retail Group is facing a shareholder revolt after it dismissed a £1billion approach from Sainsbury's. Investment firm Schroders and hedge fund Toscafund, who control almost a quarter of HRG stock, are furious at not being consulted regarding Sainsbury's approach, which was made in November. (The Daily Mail)
Analysing the deal, an unconvinced FT Lex column writes: "The offer was rejected. It is hard to understand why it was made in the first place…. Sainsbury's strategic logic looks flimsy, too. It talks of creating a "retailer of choice" when the rise of both hard discounters in food and Amazon in non-food suggests that, increasingly, there is no such thing." (The Financial Times £)
In The Guardian, a similarly unconvinced Nils Pratley says the deal is a headache Sainsbury's doesn't need. "Surely Sainsbury's has enough problems on its plate in supermarket-land without volunteering to fight Argos's battle with Amazon."
However, The Daily Mail's Alex Brummer is cautiously backing the deal. "As a UK grocer, facing big challenges from overseas owned chains Aldi, Lidl and Asda, Sainsbury's needs an extra leg. There are risks but, as when Sir Terry Leahy at Tesco gambled on convenience stores in the early noughties with the purchase of One Stop, it was smart counter-cyclical thinking at a time when bigger was thought of as better. The rest of the grocers followed."
In The Times (£) Alistair Osborne suggests Sainsbury's move for a more general retailer was on the cards. "The hints were there. No chat with one of Britain's more cerebral retailers comes without his views on our changing shopping habits. And it was only at November's half-year results that Mr Coupe banged on about Sainsbury's strategy to expand "non-food businesses" and invest to "ensure customers can shop with us across multiple channels". (The Times £)
A couple of the papers also focus on Sainsbury's CEO Mike Coupe. "Win or lose, Sainsbury's boss Mike Coupe has marked himself out as a man of action," remarks The Telegraph. "So much for the quiet man," quips The Times (£).
Away from Sainsbury's/Home Retail - After enduring a decade-long slump, the entertainment sector has bounced back to deliver a record high in sales. (The Times £)
The wettest December for more than a century has dampened earnings at Carr's Group, the Carlisle-based agriculture and engineering business, which warned yesterday of losses after flooding across the north of England. (The Times £)