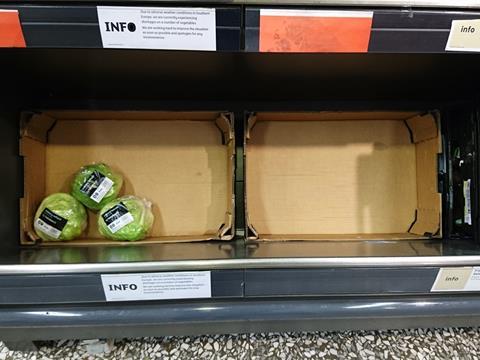 Spanish snow storm leads to UK salad shortage, writes The Guardian. January is a month when Britons turn to salads after the Christmas blowout. But now, on top of the disruption caused by Brexit and Covid, even the weather is conspiring against dieters by causing shortages in UK supermarkets. (The Guardian)
Deliveroo's valuation shot up to more than $7bn in a new fundraising, in a sign confidence is growing among the food delivery app's investors ahead of its long-awaited stock market debut (The Financial Times £). Takeaway giant Deliveroo has raised $180m at a valuation of more than $7bn (£5bn) as it prepares for a bumper stock market listing (The Times £). Takeaway delivery firm Deliveroo has raised new funds and confirmed a 'potential' stock market listing could be on the cards (The Daily Mail).
Deliveroo set for tough ride despite carrot of tasty growth, writes Christopher Williams in The Telegraph. The appetite for takeaways will inevitably be partially reversed as social life returns, posing new challenges for the firm. (The Telegraph)
A company that makes vaping liquids for e-cigarettes is considering a stock market listing that could value it at £180m. Supreme, which is based in Manchester and makes the Kik and 88vape brands, is seeking to join Aim, London's junior market, and has started to test investors' appetite for its shares. (The Times £)
Canada's Alimentation Couche-Tard has broken off €16.2bn takeover talks with Carrefour after opposition from the French government over the deal's potential impact on the country's food security and jobs could not be overcome (The Financial Times £).
Ireland's freight transport industry has warned of "huge disruption" to important supply chains once pre-Brexit stockpiles are run down in coming weeks, saying the country's economically-significant agricultural and pharmaceutical sectors risk long delivery delays because of new red tape. (The Financial Times £)
UK retailers face up to challenge of enforcing mask wearing as smaller chains such as Iceland do not have sufficient security to confront rule breakers. (The Financial Times £)
One of the eight former Carillion directors facing a boardroom ban after the construction giant's collapse in 2018 is to leave Tesco. Alison Horner, chief executive of Tesco Asia, is to step down next month after 22 years with the supermarket. (The Times £)
The Serious Fraud Office has closed an investigation into British American Tobacco over allegations that it bribed government officials in Africa (The Times £, The Financial Times £).
A low-alcohol spirits startup, Clean Co, has secured £7m in funding from high-profile investors to keep up with demand for hangover-free drinking. (The Telegraph)
Big Meat is facing up to the demands for sustainability. Consumers and investors are looking at the environmental damage the industry has done and calling for change. (The Financial Times £)
Although Amazon is best known for its consumer products and services such as the Alexa voice assistant, its most valuable business operates in the engine room of the digital economy. Amazon Web Services, its cloud computing division, generates more than half its operating income. (The Times £)
Walmart's US ecommerce chief is leaving the company, drawing a line under a near five-year period in which the world's largest bricks-and-mortar retailer expanded its online operations rapidly yet remained a digital minnow compared with the might of Amazon. (The Financial Times £)