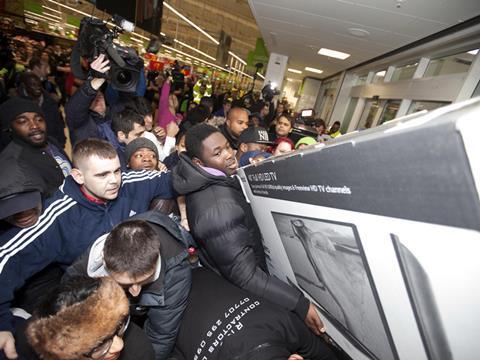 Most of the papers this morning have a story about the failure of Black Friday to boost retailers' sales figures.
The Financial Times (£) said the weak BRC sales figures have created fears that the best household finances in years will not translate into a bumper Christmas on the high street. The Times (£) writes that lower petrol prices are not translating into higher customer spend "because customers remain cautious". The Guardian says that record take-up of online shopping and a late Black Friday boost failed to make up for slow trade in the rest of the month.
Elsewhere, The Telegraph has the story that WH Smith boss Stephen Clarke is set to enjoy a 55% surge in his pay package after the group's focus on airports and train stations lifted profits last year. The Financial Times (£) says the award is recognition of his arresting 13 years of slowing sales at the high street retailer. "The retailer has benefited from the adult colouring book craze, the publication of Fifty Shades of Grey author EL James's new book Grey, and an uplift in air travel that has brought more customers through the doors of its airport outlets," said The Guardian.
One of the most senior female executives at Tesco has joined the exodus of leading executives quitting the troubled retail giant. Jill Easterbrook, the group's transformation director, will leave in the new year. Tesco, which has been plunged into turmoil recently as a result of an accounting scandal, falling sales and fierce competition from the discounters, said that there were no plans to replace her role. (The Times £)
Germany's secretive Reimann family has launched a $13.9bn bid to take Keurig Green Mountain private, in its biggest challenge yet to Nestlé's lead in the consumer coffee market. JAB Holding, the family's investment vehicle, has spent nearly $30bn, including this deal, in the past three years acquiring beverage groups. Monday's deal will allow JAB to take on Nestlé's high-margin Nespresso brand directly, by tapping Keurig's single-serve brewing machines. (The Financial Times £). The Times (£) wrote: "If anybody was in any doubt that coffee is one life's little luxuries that people simply cannot do without, it came yesterday".
The FT's Lex column notes the uncertain growth prospects at Keurig, writing: "A strong cup of Joe is the perfect pick-me-up on a Monday morning. But that quick boost can only mask fatigue for so long." (The Financial Times £)
An award-winning sparkling wine sold by Aldi accounts for one in every 12 bottles of all champagne bought in UK supermarkets and off-licences, according to the discount retailer. Aldi said its exclusive Veuve Monsigny champagne, made by the renowned French producer Philizot & Fils and priced at £10.99, has become a firm favourite of shoppers across the country. (The Guardian)
The Mail's Alex Brummer looks at Mondelez's tax affairs, arguing that Cadbury's re-emergence as a serial user of clever tax avoidance strategies should come as little surprise and "helps take the Great out of Britain". "One of the first actions of new owners Kraft in 2010 was to shift the domicile of Britain's premier chocolatier to Switzerland," he writes. "All the other sins committed by Kraft and its successor company Mondelez have become legion." (The Daily Mail)
British American Tobacco bribed a local official to misreport the impact from a fire at one of its warehouses in Uganda, a former company employee has alleged. Solomon Muyita makes the claims in his case for unfair dismissal from BAT in 2013 where he was a corporate and regulatory affairs co-ordinator. He says the cigarette group bribed an official to secure a report stating there was no harmful impact from the fire. (The Financial Times £)