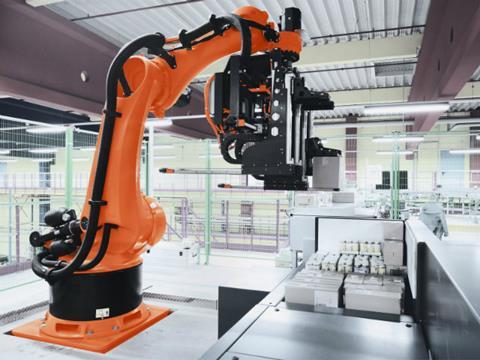 Top story
Nestlé (NESN) is investing £55m into creating a state of the art logistics warehouse, which it claimed would be one of the most advanced distribution centres in the world.
The "digital warehouse of the future" will have robotic arms handling consumer goods and drones patrolling the area.
The Swiss consumer giant is working with XPO logistics to develop the facility to enable the fast and efficient dispatch of products.
Nestle goods will be shipped from its global factories to the site 638,000 sqft site in Leicestershire, where they will be stored before distribution.
The facility will utilise fixed-arm robots for picking and packing pallet, with drones used at the site take data for inventory checks by looking at stock on high shelving units.
"This is a world-first investment for Nestlé that builds on a century and a half of proud history in this country. Our partnership with XPO will encourage innovation and experimentation in our UK logistics operations and help futureproof our business," said Nestlé director of supply chain David Hix.
"We will be able to be even more responsive for our customers across our brands, which include some of the most recognisable in the world.
"We are thrilled to be working with XPO Logistics to build a flagship digital warehouse and technology laboratory at the East Midlands Gateway Logistics Park."
XPO said that "several hundred jobs" would be created at the site, which is set to open in 2020.
"The new East Midlands centre will operate as both a think tank and a launch pad for XPO innovations, with far-reaching impacts on the way business is done. We look forward to an inventive collaboration with Nestlé," said Richard Cawston, managing director of supply chain at XPO Logistics.
Morning update
High Street retailer Debenhams (DEB) has issued another profit warning, adding to current woes in the retail sector.
In a trading update, the company said that pre-tax profits would be between £35m and £40m, falling short of its estimate of £50.3m.
The shortfall was a result of "increased competitor discounting and weakness in key markets", the retailer said.
Trading was "below plan" in May and June, the company said, and comes following a profit warning earlier in 2018 as a result of poor Christmas trading.
Group like-for-like sales increased 2.1% in the 41 weeks up to 16 June, as it failed to meet company expectations.
Like-for-like sales dropped 1.7% in the 15 weeks to 16 June, while digital sales grew 16% over the same period.
The company said it expects to implement £20m of previously planned cost savings ahead of initial dates.
The performance reflects the high street woes of competitors House of Fraser and Marks & Spencer, which have both announced store closures recently.
"It is well-documented that these are exceptionally difficult times in UK retail, and our trading performance in this quarter reflects that," said CEO, Sergio Boucher.
"We don't see these conditions changing in the near future and, because it is our priority to maintain a robust balance sheet, we are making very careful choices about how we deploy capital.
"We see clear evidence of progress as our digital growth outperforms the market and customers respond positively to our product improvements and format trials. We have also put in place a leaner operational structure and made a number of important hires so that we are well-equipped to navigate the market turbulence."
UK labour income is on the up and enjoyed its fastest rise since 2009, according to date from HIS Markit's household finance index.
Despite growth, expectations on household spending remain downbeat as living costs weighed on household budgets over the month.
Overall, the index, which is intended to anticipate changing consumer behaviour, eased to 43.4 in June, from 44.9 in May, suggesting a squeeze on household finances.
"Resilient labour market conditions and a faster rise in workplace activity meant that job insecurity across the UK as a whole was the least widespread for more than nine years", said Tim Moore, associate director at IHS Markit.
"Despite improvements on the employment front, households remain relatively downbeat about their financial outlook."
Agri-services company Origin Enterprises (OGN) has acquired a majority stake in crop nutrition company Fortgreen.
The deal, which also saw Origin acquire a 20% stake in Ferrari Zagatto, enables the company's expansion into South America.
Early trading has seen the FTSE 100 dramatically slide 0.8% to 7,567pts after Trump threatened China with increasing trade tariffs.
This morning's early risers are few and far between, with Devro (DVO) up 0.4% to 203.8p, McBride (MCB) up 0.4% to 141.6p and Stock Spirits Group (STCK) up 0.2% to 233.5p.
Ocado Group (OCDO) are sliding again, down 2.7% to 933p, following a disappointing first day on the FTSE 1000 yesterday. Other fallers include Domino's Pizza Group (DOM), down 2.5% to 337p, Paypoint (PAY), down 1.5% to 1,044p and WH Smith (SMWH), down 1.5% to 2,010p.
Yesterday in the City
Despite recovering from morning losses, the FTSE 100 still ended up in the red, falling 0.03%, as tariff concerns between the US and China spooked the markets.
J.D. Wetherspoons was one of the day's risers, moving up 2.4% to 1,254p.
Other companies who had a positive day's trading included Premier Foods (PFD), up 1% to 40p, MP Evans Group, up 1.1%, and Associated British Foods (ABF), up 0.9% to 2,762p
The FTSE 100's big loser yesterday was Ocado (ODCO), on its first day on the leading index, which slipped 7.8% to 959p, turning back on some of the delivery group's recent gains.
The fall comes after it was downgraded from 'buy' to 'underperform' by Bank of America Merrill Lynch as it moved into the execution phase of its Kroger deal.
Fallers included Nichols (NICL), down 3.6% to 1,490p, Stock Spirits Group (STCK), down 2.7% to 233p, and Hilton Food Group (HFG), down 1.9% to 910p.