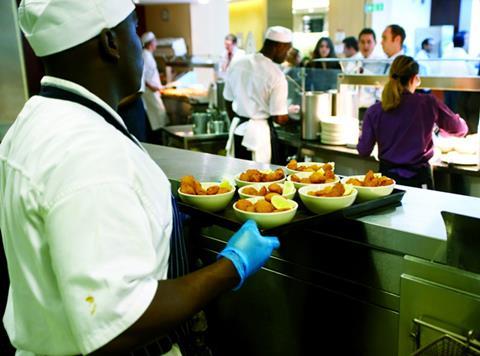 Top story
FTSE 100 catering giant Compass Group (CPG) has reported to 5% boost to annual organic revenues and 5.6% growth in underlying operating profit on strong performance in North America.
Underlying revenues grew 5% in the year to 30 September to £19.9bn, driven by growth of 8.1% in Norther America. Organic revenues in Europe were up 2.8%, while rest of the world grew 3.6% (excluding offshore & remote).
Compass said new business wins were 8.8% and its retention rate was 94.1% as a results of ongoing investment, though it aims to increase participation and spend through consumer sales and marketing initiatives.
Like for like revenue growth of 2.1% reflected "sensible price increases" and "modest volume improvement" in North America offset by negative volumes in Rest of World.
A restructuring programme announced in July 2015 to reduce the cost base of its offshore & remote business and in some emerging markets is complete and delivering "expected" savings. Restructuring costs totalled £51m - £25m and £26m charged in 2016 and 2015 respectively.
Underlying operating profit increased by 5.6% on a constant currency basis to £1.45bn, while underlying operating margin was flat as it continued to drive efficiencies across the business
On a statutory basis, revenue, operating profit and earnings per share benefitted by around 6% from the translational effect of weaker sterling
Richard Cousins, Group Chief Executive, said: "Compass has had another strong year. Performance in North America continues to be excellent, and we are pleased with our progress in Europe. In the Rest of World, the performance is mixed, with the impact of the cyclical downturn in our commodity related business offsetting reasonable progress elsewhere.
"Our expectations for 2017 are positive, with growth weighted to the second half of the year. The pipeline of new contracts is good and our focus on organic growth, efficiencies and cash gives us confidence in another year of delivery."
Compass Group shares were down 2.9% to 1,351p in early trading.
Morning update
Elsewhere this morning, pub and restaurant group Mitchells & Butlers (MAB) returned to like-for-like sales growth in the latter part of its year to 24 September, but profits fell by more than a quarter.
Full year like-for-like sales were down 0.8%, but M&B pointed to an improving trend through the year, with sales in the most recent eight weeks up 0.5%, while pre-tax profits fell 25.4% to £94m
Total reported revenues dipped to £2.09bn from £2.1bn.
Chief exec Phil Urban commented: "During the year we have made good progress in our three priority areas: building a more balanced business; instilling a more commercial culture; and driving an innovation agenda. This focus is starting to have a positive effect on our sales, with improved performance against a subdued market in recent months through continuation of the momentum we saw start in the second half of last year.
"Sales growth in the first eight weeks was impacted by the Rugby World Cup in the prior year, but I'm encouraged by the underlying momentum which has seen recent weeks return to the levels seen in the summer.
"In the next year, as previously announced, we face external cost headwinds, notably from further wage inflation, the recent business rates review and exchange rate movements. We are working hard to mitigate these headwinds wherever possible, both through building on our sales momentum and active management of our cost base."
The FTSE 100 is up 0.9% to 6,838.2pts to start the day today after US shares hit new highs overnight.
Mitchells & Butlers is down 4% to 262.5p this morning, but generally stocks are on the up.
Tate & Lyle (TATE) is up 2% to 700.5p, Majestic Wine (WINE) is up 2% to 293.3p and Britvic is up 1.9% to 572.5p.
Sainsbury's is up 1% to 238.6p and Morrisons (MRW) up 0.9% to 220.1, while Marks & Spencer (MKS) is up 1.3% to 338.1p.
Along with Compass and M&B, early fallers include Real Good Food (RGD), down 2.5% to 39p and Total Produce (TOT), down 1% to 146p.
Yesterday in the City
A quiet day in the City saw the FTSE 100 virtually unchanged, up just 2.2pts to 6,778pts.
There were some notable sector fallers though, led by Irish convenience foods group Greencore, which plunged 5.6% to 290.8p yesterday. The fall looked to be due to some measure of profit taking after it rose by around 15% last week after its takeover of US food group Peacock, but could also be influenced by weaker than expected results from Tyson Foods in the US yesterday.
Cranswick dropped 2.7% to 2,240p after its own rise last week following its acquisition of Dubia's Northern Irish pork business.
Other fallers included Britvic (BVIC), down 2.2% to 562p, Greggs (GRG), down 1.9% to 914p and McBride (MCB), down 2.7% to 174.5p.
The recent volatility continued at Majestic Wine (WINE), down 5.4% to 287.5p, while sausage skin manufacturer Devro was down 5.6% to 161.75p.
The few significant risers included Associated British Foods (ABF), up 1% to 2,575p and Coca-Cola HBC (CCH), up 0.8% to 1,687p.
After receiving a share price tip in the weekend papers, commercial transport provider Wincanton was up 4.7% to 217.75p, while Science in Sport (SIS) was up 4.7% to 67p.