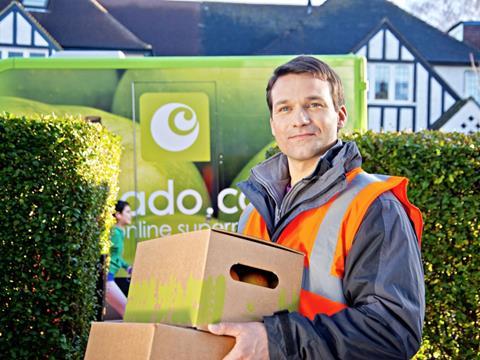 Top story
Shares in Ocado (OCDO) have sunk to lows not seen since early 2013 as investors took flight over continuing worries about the threat from Amazon Fresh.
The online grocer's share price have plunged 6.6% this morning to 209.5p after sliding more than 8% yesterday.
It puts the stock down more than 16% since the launch of Amazon Fresh last week and almost 30% in the year to date.
Ocado peaked at just more than 600p in February 2014 but have been extremely volatile ever since.
Amazon has initially rolled out Fresh in Central and East London with same-day delivery on 130,000 products in 69 London postcodes to Prime customers. Its range includes thousands of Morrisons own-label products, major brands and artisan products.
Analysts mostly agreed that the launch presented the biggest threat to Ocado's model over the traditional grocers. Jefferies noted that sales within the M25 still made up at least 35% of Ocado's business. "The launch of Amazon Fresh in London comes at a time when investors are increasingly speculating on the impact the tech giant can have on grocers worldwide. In this instance Ocado is most vulnerable to share shift, while Morrisons the most advantaged, as it can use Amazon Fresh to help address its severe under-representation within greater London," the firm said.
Retail analyst Nick Bubb said the combination of fast delivery and fresh food from local specialists would make AmazonFresh "an attractive proposition" and a "significant challenge" to Ocado.
However, HSBC was more cynical about the threat to Ocado and added that Amazon would take a long time to build scale." If Amazon is 50% of the size of Ocado in five years (about £500m) it will have done well, but would still be well under 0.5% market share and if its entire range was bought from Morrison (which it will not be), then it would deliver less than 1% growth to Morrison each year."
Morning update
It is extremely quiet this morning after the dramatic events at Asda yesterday.
On The Grocer we detail the latest accounts of Bath Ales. The brewer has fallen into the red despite revenues increasing 7% to £15.6m, with strong demand for bottles of its flagship Gem amber ale at the supermarkets helping fuel growth. Read the full story here.
We also report on the latest figures for Costco UK. Sales rose by 7.9% to almost £2bn in its last financial year as new warehouse openings underpinned its wider growth, according to its accounts filed at Companies House. The story is here.
The FTSE 100 continued where it left off, falling 0.7% so far today to 6,010.73 points. Most grocer and retail stocks are also in the red again as Brexit fears continue to put downward pressure on the markets. Marks & Spencer is down 1.3% to 354.9p and B&M is down 1.1% to 264.9p.
Yesterday in the City
It was an awful day for the markets – and for grocery and fmcg stocks – as the FTSE 100 fell for the third day running as fears of a potential Brexit continued to haunt the blue-chip index. It fell 1.2% to 6,045 points.
All of the stocks in The Grocer 25 finished in the red yesterday, with not much cheer to report outside of the biggest companies we keep track of.
Ocado was the big loser, with the share price slumping 8.1% to 224.3p as the threat from Amazon Prime continued to devalue the company in investors' eyes.
Poundland (PLND) also had a shocking day as analysts predicted big full-year losses as a result of the ill-fated 99p Stores deal when the retailer unveils its annual numbers on Thursday. Its share slid 6.8% to 158.3p by close of play.
Other notable fallers included Cranswick (CWK), down 4.1% to 2,217p, Dairy Crest (DCG), down 2.7% to 540p, and Greencore (GNC), down 2.6% to 321.2p.
The miserable run at Marks & Spencer (MKS) also continued, with the share price falling 2.1% to 359.6p – more than 20% below where it started 2016.
And on the day that Asda dramatically revealed that Andy Clarke was to be replaced by another Clarke, shares in Tesco (TSCO), Morrisons (MRW) and Sainsbury's (SBRY) all fell – down by 1.3% to 149.6p, 1.6% to 180.9p and 1.5% to 238.2p.